A Review of our Project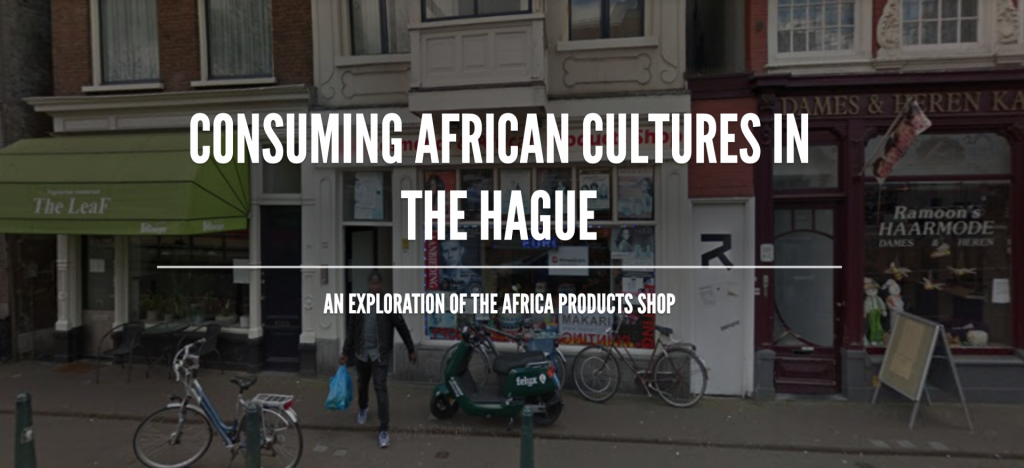 Introduction
African Products Shop is an African-owned independent shop located in downtown the Hague. It is small, but has a full range of items on display. Most of the items are imported from Africa, others are from all around the world, such as milk powders from Europe and ginger tea from China. The shop is not only a place where African culture is mapped in The Hague, but also a social community among the African diaspora. In this shop you can see the contradiction of African characteristics and integrated needs of multi-national customers, as well as the shop owner's ambition to promote African goods to the international markets.
Research Question
Why do people decide to consume products from independent African owned shops in the The Hague? What does it mean for both Africans and non-Africans?
Research Objectives
Drawing an overview of the clientele characteristics;
Identifying the products or atmosphere which attract customers;
Understanding the meaning of "African consumption behaviors".
Methodology
Field observation notes (to get an insider look at the atmosphere of the shop);
Semi-structured interviews (with the owner and 10 randomly chosen customers);
Analysis of the African Products Shop' website as secondary sources (to get an idea of how the shop is advertised and what products are put forward).
Findings
Contradictions exist between the way the owner considers his diverse clientele and the actual clientele that we observed throughout our visits;
"African consumptions" among Africans are regarded as: A cultural reminder (linked with hometown, tribe, families, personal experiences, etc.); Community support among the African diaspora;
Popularity of hair products: Significantly more hair products (such as extensions, gels, shampoos etc.) than other categories; Omnipresence in online shop as most promoted products; Out of 10 interviewees, 6 bought hair products.
Reasons of hair products' popularity: The particularity of hair products makes it difficult to find alternatives; Manifestation of African identity.
Conclusions
Although the customer structure dominated by African descents doesn't meet the shop owner's ambition of promoting African products towards the international market, the African Products Shop is quite popular with a constant stream of customers in the crowded shop area. "African consumptions" among Africans are more than behaviors out of daily needs, it's also a cultural reminder and community support among the African diaspora. Besides, the popularity of hair products shows the particularity of this shop and the self-identity of African customers in this shop.
My role in the project
Observing the daily business and shopping dynamics in the shop through 6 visits;
Videoing interviews with the shop owner and 10 randomly chosen clients;
Editing raw video materials into a complete final product;
Drawing conclusions through on-site observations and semi-structured interviews;
Browsing the online shop to support or to verify our conclusions out of research;
Visualizing the research methodology through screen recording and powerpoint making.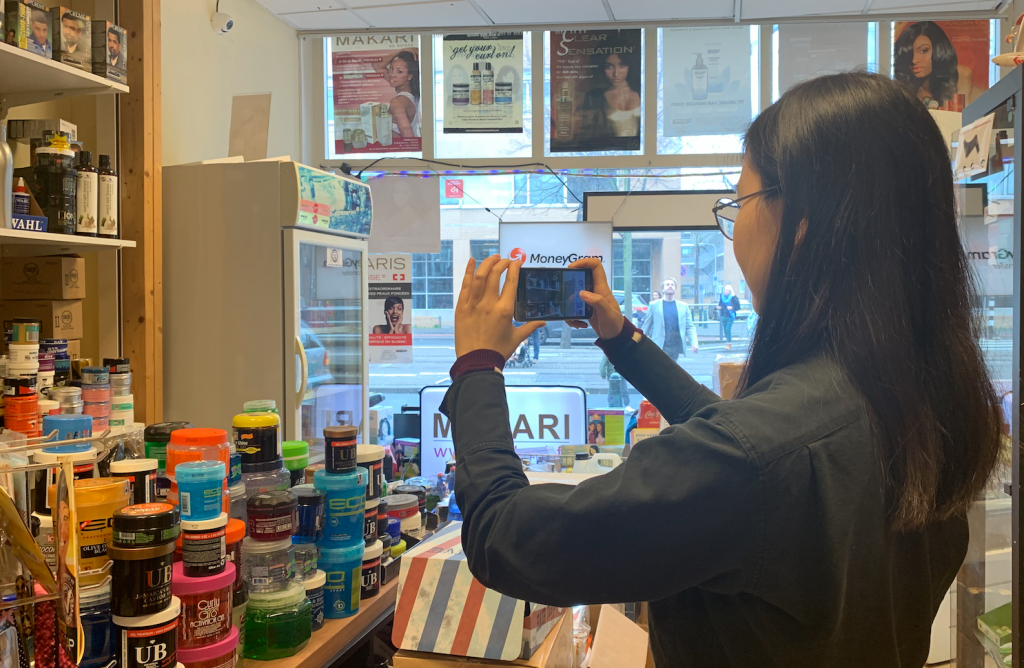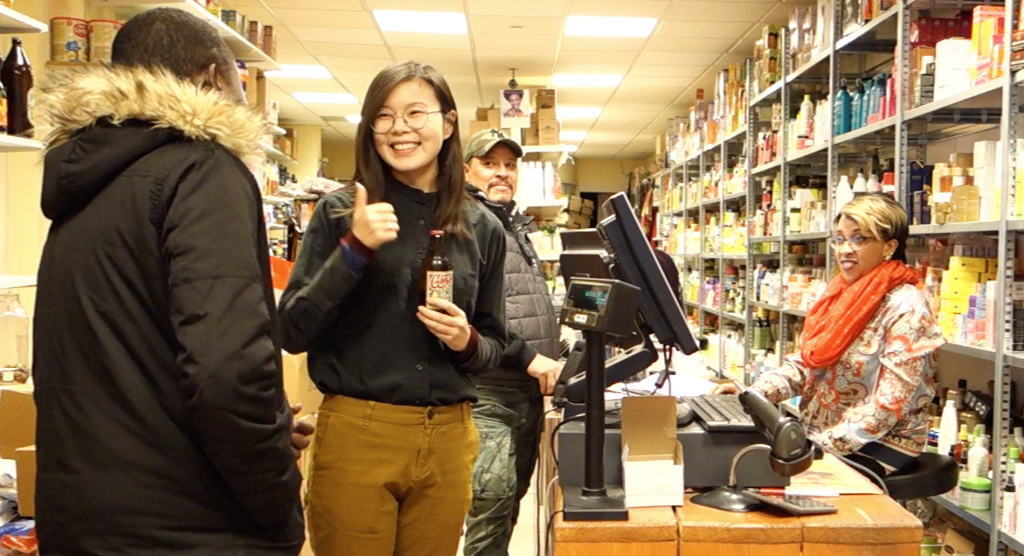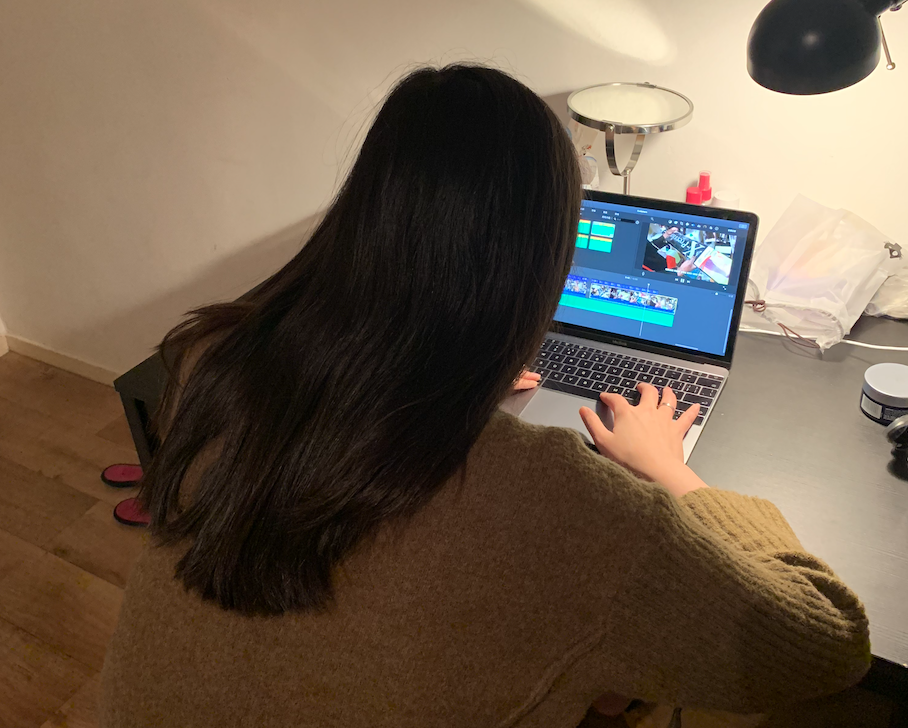 Reflections on Research
Changes of Research Objects
At the beginning, we planned to do a research about "How African businesses broadcasting African culture in the Hague". We've chosen three shops owned by Africans or African descendants, who are capitalizing on African cultures by selling imported products, African food and fabricated products. As these three stores belong to different industries: groceries, food and textile. Their industry status, customer structure, and consumption habits are different from each other. To deepen our research, we then changed our plan and focused on the African Products Shop, which has a more accessible location and a wider variety of products.
Problems we encountered during our Interviews
Language Barriers
As our research aims at assessing the meaning of "African consumption behaviors" from customers' perspectives, so we decided to investigate their purchasing behaviors through semi-structured interviews.
During the interviews, we encountered various problems, first of which is language barriers. At first we interviewed those who could understand English, French, Swahili or Chinese. As a result, we lost a lot of potential interviewees who were Dutch speakers or communicating in other languages. Then we changed our plan to use multi-language during our research (sometimes using Google Translation to translate our questions). Even some of our interviewees were answering in languages we could not understand, such as Dutch, Spanish etc., we kept the videos and asked our friends to do the translations for us. This change was quite essential which effectively expanded the group of interviewees.
Superficial Answers to Prepared Questions
Another problem was people usually made superficial answers which could rarely contribute to our research. After discussion, we found this problem sould be somehow solved by the following methods:
Making inquiries through open questions;
Instead of asking questions which could be answered directly (such as "Do you like this shop?"), we could ask open questions (for example "what do you think about this shop?") to get more information;
Focusing on their answers rather than the questions;
At first, we were sticking to the questions listed in our questionnaire instead of making in-depth communications with the customers. As a result, we got quite similar answers from different interviewees. Actually, people are willing to talk about things they are familiar with. Rather than referring to questions prepared in advance, we changed our interviews into directional chats. For example, when people were introducing the products they've bought in the shop, instead of jumping to the next question of "What does it mean to you?", we would make further inquiries such as "How do you use it?", "When was your first time to use it?", "Who recommended this to you?" to map the full story out.
Establishing Mutual Trust before Making Interviews;
In fact, during our 6 visits to the shop, we are rejected more times than we were accepted. Even our first visit to the shop was rejected.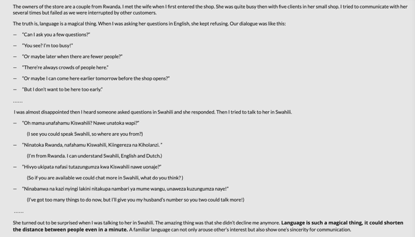 It's understandable that people are not willing to share stories with those they don't know, especially with cameras videoing them and microphones recording their talks. So there is no wonder why we were rejected so many times. To make it easier, what we could do is to establish mutual trust before doing interviews. For those who know Elie and Yvonne (the couple who own the shop ), we introduced ourselves as the shop owners' friends. For other customers, we firstly positioned ourselves as customers with no difference, showing interest in the products they've bought, then asked them whether they could be interviewed. The truth is, it's more difficult to reject someone you've happily talked with. In this way, more customers accepted our interviews.
For those who didn't want to talk about their hometown or families in front of the camera, we asked to record their voices instead of videoing their images. The process of recording interviews can be more flexible, and ultimately it is necessary to make interviewees feel comfortable by building mutual trust.
Reflections on Methodology
Processing Software
We've tried two video editing software during our research, the first one is VUE, which is an application installed on the mobile phone, another one is iMovie. VUE is a convenient and user-friendly application by which users can produce videos through fitting materials into the chosen templates, the whole procedure takes no more than 5 minutes. However, as the templates are fixed, users cannot change the subtitles, the BGM or the filters as they like. There were only three templates for free, if the users want to unlock more templates, they have to pay more money. Compared with VUE, iMovie is more flexible while less commercial. We could add filters, transition videos or specific effects matching the overall style of our video. Even for the BGM, we could use the music downloaded by ourselves. So we finally chose iMovie to do our processing work, the BGM of our final product is the music being played in the shop during daily business.
Complete Story Line
One of the most important things for making interviews is forming a story line in advance. All the interviewing and videoing work should be conducted referring to the designed story line. To maintain the integrity of the story line, defective materials with important information cannot be deleted, they could be kept in the final product in a modified way.
When processing the video materials, some answers were quite inspiring, but were disturbed by sudden noises such as sounds of a coming call or a passing-by traffic. In these cases, we silenced the materials or turned down the original sound, to make it more explicit, we subtitled the whole video as our final product.
During the shooting process, the story line needs to be adjusted according to the actual situation. For example, for customers who are unwilling to share their personal experiences, we then focused more on their opinions about the store.
Other Practical Skills Obtained during Research
There are some shooting or processing skills I've learned during the research, such as:
Choosing background with layers or geometric patterns which are visually attractive, but the simpler the background is the better the image will be;
Putting the microphone in the middle of interviewers and interviewees, or preparing two audio resources;
Making straightforward and quick questions using easy-to-understand vocabulary;
Repeating the questions if the interviewee doesn't catch the interviewers' idea;
Tensions or conflicts will make the interviews more interesting.
The above tips are summarized through the problems we've encountered during our research. The skills I've learned can be furtherly used in my future internship and research work in Africa.