3.25 a.m., the plane lands, it is officially January 10 and there is no way back. 
I know this does not sound positive, but to tell you the truth: this is how I felt and luckily how I am not feeling anymore. Let me explain. 
Since we started with our master African Studies in September, it has been a rollercoaster ride. They told us it would be, yet it was an even more extreme ride. In the months September - December, we followed 7 different modules, prepared our time abroad and I added for myself six language courses Chichewa. As you might imagine, next to personal activities, this makes for a rather packed schedule. 
In addition to these more formal agenda fillers, I am in a long distance relationship and my beloved came to visit in December: the chaos was complete. Readings, deadlines, writings, presentations, trying to find time to breathe and spend Christmas in some peace was all a lot and not manageable. The time to breathe was exactly January 10, because our last deadline was set on January 9. Now you might remember the first sentence: January 10 was the day of my arrival here in Zambia. January 9 was then the day that I would travel and the new adventure would start, but at the same time it was the day of saying (again) goodbye to my boyfriend. A complicated mixture of feelings. 
I had to get over myself quite quickly though. I got of the plane, breathed moist damp air and heat, walked over the landing track towards the little building where other passengers were walking to as well. At the immigration of Lusaka airport, which looked more like entering an entertainment park, I, of course, had no smooth experience. When it was my turn, I walked to the very annoyed, very bearish looking immigration officer. I gave her my passport and my kindest smile and tried not to collapse due to the heat and the lack of sleep. I told her that I would need a tourist visa, because my online application for a study permit was not yet answered on. I said the last under my breath, because if she had heard me well all would have been even more difficult. US$ 50 for the tourist visa. I told her I have no cash on me. She told me to go and get cash. I asked her where. She told me outside. So, without energy to contest that she had already put in the system that I would pay by cash and not by card, I took my bag and walked further.
While other people were collecting their luggage, I was trying to find the atm. I had to explain other officers what I was doing, which was of course not what other people were doing, and I got my cash. I felt really comfortable getting the cash at a half deserted airport, the other half were people that were standing just a bit too close to the atm's. I had my cash, then had to walk to check-ins, because I was not allowed to walk the three metres back into arrivals, even though the people were looking at me and knew it was me. Luckily I met a helpful officer who walked me through check-in and brought me back to arrivals. I payed the first officer and she gave me my passport back with a condemnatory look which she did not try to hide. Sigh. At least I had my visa for 30 days, my luggage and nothing terrible had happened. Pretty good score.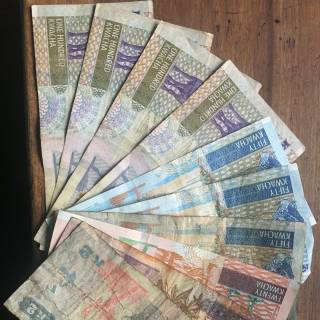 Always bring the cash for your tourist visa...
The rest of my time was smoother. A friend picked me up from the airport, I was allowed to stay with him and his family for free (!). My host family was incredibly kind, understanding and supportive. Have you met them yet?
Kanyanta, my friend who picked me up, was himself waiting for his study permit for South Africa to be approved. This meant that he could spend time helping me settle and driving me through suburb Lusaka. This was perfect, because at the office of my internship organisation I had not too much to do. After getting acquainted with my supervisors and the company and preparing for my time in the field, there was not too much to do. More details in the blog post on my internship.
One of the highlights of my time in Zambia was the 500 Lives Arts and Poetry show, see below!