19-01-2020
I wake up at 6.30h, time to get up. Today I accompany my host-mom and brother to their Charismatic church, Miracle Life Family Centre. Service starts at 8, so we leave home around 7.20.
We arrive around 7.40, the sun is out and bright, the parking lot is filling with hundreds of cars and I see several buildings and tents. We walk towards the site and we enter a huge building, the church.
We all get a piece of paper with announcements and information, and at the back space to write down notes. Host-mom and I walk through one of the isles of the big hall, she tells me I can sit next to an asian looking young man, as she has to do some other things.
This is how I met Andy and believe me, you want to meet him too. Continue reading if you want to know his interesting story.
Andy grew up in a town close – the distance was only 400 km – to Shanghai, China. We can say that his familial home was toxic, unsupportive and without love. While his parents were strict Buddhists, Andy did not find any positives in his life nor religion. During his childhood in China, his father was addicted to alcohol and his mom was often out of the house. Andy and his brother – who was abusing Andy – grew up to become unruly and indifferent teens, not caring about school and getting into fights often.
At age 8 or 9, someone told Andy about Christianity and to him it sounded like a better religion to follow than Buddhism. His decision, though based on logics, did not sit well with his parents: to them it was disrespectful and humiliating. He started going to church, yet his heart was not in the right place. He thought as long as I go to church, I'm a Christian. Before he was 15, he was drinking, smoking and fighting. His mom left for Tanzania at some point, she started her own business there and left her family behind. At age 15, Andy's school didn't accept him anymore, he had no prospects and no support system. His parents put him on a plane to Tanzania as well: if you don't want to learn, then at least work for the family.
2013: Andy lands in Tanzania. He works in his parents' firm, continues to drink, smoke and engage in illegal activities. Things didn't improve at all for Andy.
Then, however, something happens. He feels the touch of God, something he had prayed for time and again: God give me a sign of some sort, tell me what to do. At one of the prayer meetings, where Andy was only wondering if there could ever be a God in this twisted world, he lays his head down and feels a hand on his head, yet no one is near him. He trembles and shakes, someone is touching him on the head but there is no one in sight! Quickly he stands up and makes his way to the door. A couple of metres away from it he falls on the ground and stays down for a while. Members of the prayer group, with many different nationalities and backgrounds, pray for him. He only remembers waking up the next day, back in his mother's appartement, four high in Tanzania (city?). The apartment is just as toxic as his home was, not a happy place for Andy. Around 7 am he wakes up, energised and re-born. For him a very strange feeling, because he is a night person and has no happiness in the day. He opens the curtains, the sky is cloudy and pressing, yet the sky opens slightly and a ray of light falls directly on Andy. The warmth of the sun and God strengthen him even further. God is giving him the signs that he asked for.
God did not only show himself to Andy visually. He also spoke to him in a language that he had never heard before, yet understood: God told him that He loved him. When Andy went to tell his parents quickly, they didn't want to hear about it and they sent him out of their room. While he entered the kitchen, he saw two rainbows and was reminded of a scripture in the beginning of the Bible, Genesis, 9:11-17. The same day he quit smoking and drinking, finding a renewed strength and need for life.
However, even though he experienced these beautiful events, he was still stuck under the burdens of inadequate parents and no promising prospects. Life carried on normally, yet Andy felt more and more convinced that he had to leave his parents and his new home in Tanzania. This feeling was strengthened even further when he had a dream in which the other employees and workmates were planning to kill him, something that almost happened.
Some luck came his way, eventually. The situation became threatening and uncomfortable for Andy, until the missionary couple heading his local church in Tanzania offered him part in their missionary trip to Mozambique. The couple, originally from the USA, wanted to help Andy get back to school and so, when the visa to go to Mozambique was rejected, supported him to do his high school in Zambia. He travelled between the farm where the missionary couple worked in Western Province and Lusaka, Zambia's capital. Since three years, Andy is enrolled in the Bible School and he is in his final year now. Some of his future hopes are to go to University in the US and to engage in activities to help and educate orphans in several countries in Asia.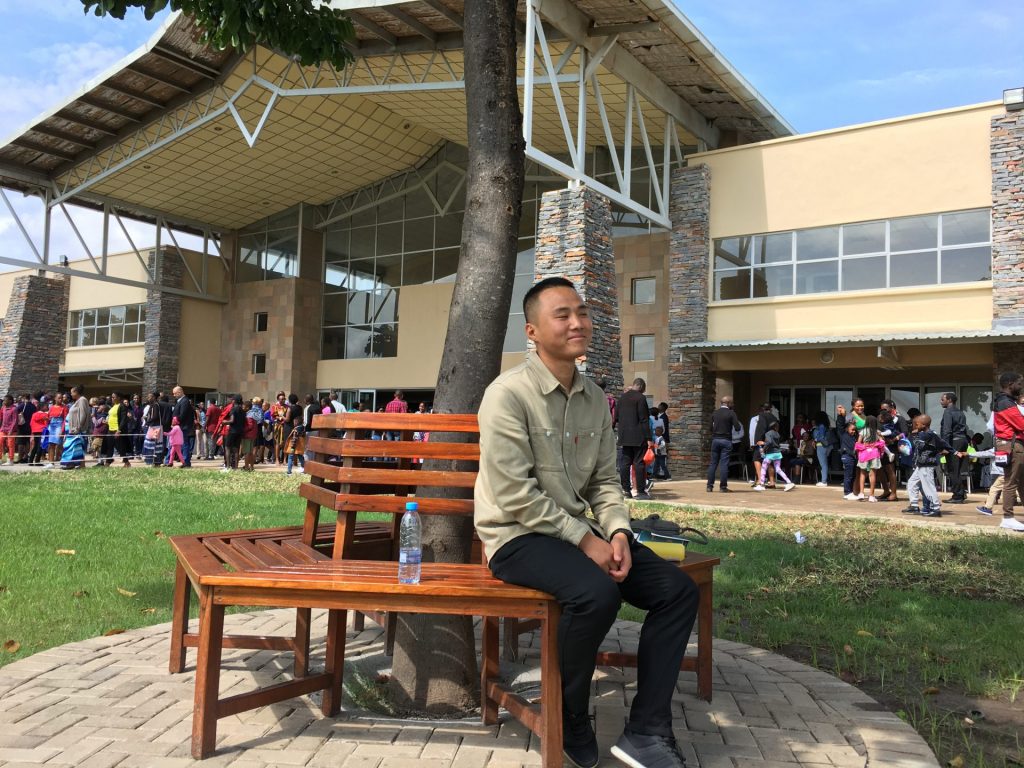 Oh and… Andy is only 22. He has his whole life in front of him and goes where God leads him to. Glad you met Andy? Me too.