It was Sunday, 20th of September, 17:26. My research partner, Pam, and I were searching for the entrance to a place called De Buurt. It was hosting a so-called African Sunday, meant to transform De Buurt into Africa for a day (according to the description). We reserved a table for 17:30 – it was now 17:31. "They will still let us in right?" we joked. COVID-19 already marked this experience of 'Africa in the Netherlands'.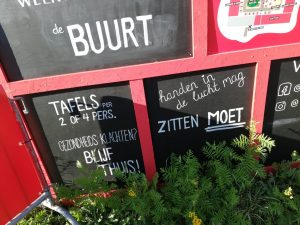 The mood was set by a sign stating "hands in the air allowed, sitting down obliged" (figure 1). It completely clashed with my assumptions of African parties. Still, my expectations rose as we passed the ticket lady. Though I am African on my father's side, I had never attended an African party.  Would it would be like celebrations with my African family: weddings, baptisms, etc.? When I shared my experience with African parties with my informant JJ*, his facial expressions betrayed that family events do not count. I also foresaw another scenario: a mixed but predominantly White crowd, bopping their heads to African-sounding beats, in a room full of African-looking decorations. Comments on the stereotypical portrayal of the continent were on stand-by. Overall, I imagined feeling either too African or not African enough to fit with the crowd. When we entered the courtyard where the event took place, it turned out that I had been the prejudiced one; the space lacked all reference to Africa, the first discernible song was Dutch with Caribbean hints, and, safe for three people including myself, everyone was White. The only thing that felt African was the BBQ smell, which reminded me of holidays in Cabo Verde. I could not discern my own first impression, nor my position among the people present. Consequently, I had to let my surroundings happen to me.
The courtyard was armed with picnic tables and repurposed barrels, surrounded by small groups of max six people (figure 2). Plenty of them were standing, defying the corona measures without any staff intervention. Besides the occasional walks to the bar, no one ventured beyond their table-islands. Only the few seated near the DJ booth in an outer corner, were somewhat engaged with the music. According to Pam, people often visited De Buurt without any knowledge of the events taking place there. This may have explained the overall atmosphere of disinterest.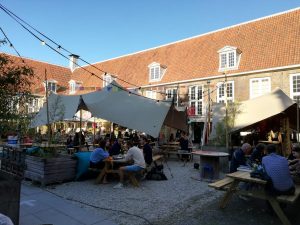 We hijacked two reserved tables, so that Pam's later-arriving friends could join us. I pulled out pen and paper, determined to create thick descriptive data by noting down everything I could sense. Although the sun was shining into the courtyard, the wind was making its chilly presence known. It was nevertheless busy. There seemed to be an even mix of middle-aged people and young adults, with a slight majority of females. The middle-aged group was mostly dressed casually in jeans and shirts, the accompanying young children wore matching sets and princess dresses. Many of the young adults sported a summery style I like to call 'Hipster-Hockey girl', common among Dutch, White, female, and generally blond students. I was again corrected in my assumptions; no one's attire made explicit reference to Africa. The food served also did not betray an African theme; BBQ, fries, bitterballen – all just slightly fancier than at a typical Dutch backyard party. Attendees who were not eating, were either talking, smiling at their table-partners or looking around with expressions of boredom. I probably belonged to the latter group, feeling as if truly nothing was happening here. Ethnography is all about taking time, and my current impression was that this evening would take forever.
At 17.48, the music began to sound a bit more typically African. With renewed enthusiasm, I inspected the built surroundings. The location was called the Pesthuis, constructed in the 17th Century to accommodate plague victims. Could the original builders have ever imagined that one day it would host African Sunday? In of the renovated rooms aligning the courtyard was a photo exposition. It turned out to be unrelated to the event.
Six o'clock, a new DJ stepped in. The total number of non-White attendants had now reached five. People were walking around with doggy bags. One lady began to dance. Black and White musicians gathered around the DJ to test their instruments. Ten past six, the band kicked off with Jazz. The dancing lady joined them on a percussion instrument, reminding me that this was an African event. The singer warmed his voice with songs reminiscent of Islamic devotional singing. It was soothing to the ear, but combined with the soft music, the cold wind, the ambient chatting sounds, and the overall non-happenings, I started to drift away. The most exciting moment was a walk to the bathroom, during which I encountered another exposition of colourful paintings (figure 3). I looked for a confirmation that this was African art. It was again unrelated.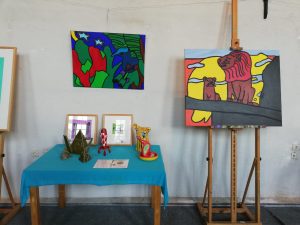 Almost seven o'clock. The arrival of all but one of Pam's friends, along with a change towards upbeat music, re-awakened me. However, as Pam and friends engaged in conversation, I drifted off again. But then the last friend arrived, JJ, and due to corona seating-measures he had no choice but to sit at my table. The rest of the evening flew by as JJ embarked on a lengthy account of his life. Albeit in Europe, he was the perfect example of fulfilling, in his own words, the "American dream" that is treasured by so many African youths. The pursuit of higher education directed him to the Netherlands, where he arrived severely under-dressed in January 2017. He graduated Cum Laude, acquired a stable, well-paying job, and is planning to apply for permanent residency next year.
Since his arrival, his love for partying was not neglected. He also had plentiful experience with the genre of African parties to enlighten me. Throughout his descriptions, he used "We Africans", and he was confident in taking the representative role, for he had friends all across the continent. He presented the standard format of an African party (at least in the Netherlands). 1. There ought to be a lot of food, dancing people, and good music. Whether African Sunday approached this is subjective. 2. It should start with Afrobeats, followed by South African House, and finally Kizomba. According to JJ, African Sunday roughly followed that format. I did not have enough genre-specific knowledge to contest his observation. 3. There should be at least twice as many people as invited. Since there had been more people entering than there were reserved tables, I considered this box ticked.
The more I learned from JJ, the more I forgot to also observe my surroundings. In between subjects, I quickly noted down any changes. The music switched between live performance and DJ-sets. The crowd became younger and more mixed, albeit mostly due to Pam's diverse friends and the fact that most other attendees had already left. Fairy lights had been switched on, creating a cosy setting. The atmosphere was relaxed. Only the DJ still appeared full of energy as he danced to his own set (a type of dancing that JJ would later mimic, when he imitated Dutch people at parties). For the first time, I noticed that the DJ booth was decorated with four, seemingly random, national flags: Tanzania, Ghana, the DRC, and, upside-down, Togo.
JJ repeatedly wondered out loud what I was writing down. Somewhat regretfully, I would repeat the same observations as I had made ten minutes ago. The sense that nothing was happening persisted. It is only now, looking back, that I realise I was taking notes of the wrong research subject. From the moment JJ became my informant, 'Africa in the Netherlands' was no longer represented by African Sunday, but by this Ghanaian attendee and his stories.
It was a little past nine. When an African party dies out, JJ remarked, 1. the music slows down, 2. people grab their jackets, 3. they go for one last dance, and 4. the bartenders hint at the evening's end by cleaning the tables and asking people if they are alright. Apart from the dancing, all other aspects of the prophecy were being fulfilled. It was time to go home. In the train, I wondered what I could possibly write about. Then I recalled my informant. You must include me in there, he said. Of course I must; I could not have wished for a more insightful experience of Africa in the Netherlands.
*pseudonym