West Africa Meets Eastern Europe at Mayfair Restaurant Stork! Modern Pan-African Restaurant in the heart of Mayfair. 
On my quest for African cuisine, I came across Stork, a modern Pan-African restaurant. The location of this restaurant is what struck me first. Usually when I'm on a hunt for an African restaurant, Mayfair wouldn't be the first place that comes to mind due to its reputation of only having fine-dining restaurants.
As I sat right in the middle of the restaurant, waiting for my friend to arrive, the waiter rushes over a heavy jug of water towards me, and begins to describe the restaurant: ''Our restaurant is inspired by the journey of the Stork, and our modern Pan African cuisine demonstrates the migration of African culinary from continent to continent''. I was impressed by this I must say. But I did not understand this idea until I briefly run my eye over the menu which seemed fairly simple but complex at the same time.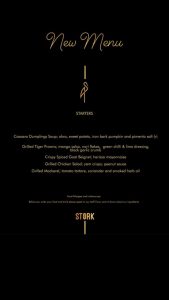 When I think of African restaurants that epitomises the taste of 'home', fine dining restaurants like Stork isn't what I expect. I was intrigued by the concept of combining two completely polar cuisines could work. At first glance, I wasn't so impressed by the lack of detail in the menu and I felt that it really didn't have the 'African' feel that I would often get when I go to an African restaurant. However, seeing standbys like Egusi Stew and Suya, brought about a sense of familiarity. My eyes were automatically drawn to the Crispy Spiced Goat Beignet, simply because goat meat is always a pleasant reminder of home. For many Africans, goat meat is one of the gateways to African cuisine. However, I wasn't so sure if this will be like the traditional goat dishes I've tried in Africa, but I was still intrigued to see how this common dish would be transformed. My friend on the other hand, opted for the Grilled Tiger Prawns which I also thought wasn't an 'African dish' per say.
The wait for the food wasn't too long, compared to your regular African restaurant, where your food can take an hour or even longer. Within 20 minutes of ordering, the waiter rushed over two small plates and gently places it in front of us. My first thought was 'this is rather small' and ''where is the goat?', but then I had to remind myself that I've opted for a fine dining restaurant. I knew I had to limit my expectation the moment the waiter explained the concept of the restaurant, so I wasn't exactly expecting a whole grilled goat with some rice on the side. As I dug into the dish, a lot of thoughts cross my mind: ''why is half of the plate filled with flowers'', ''this is very nice but I cannot taste the strong flavours of the goat meat.''
The presentation of the food was very eloquent and simple, something I don't often associate with African food. Traditional West African food is intense and pungent. It's big on umami and spice. It's also enough to keep your stomach going for a couple days. The African food served at Stork was different, it had a lighter take on West African cuisine. In other words, the reference to African food in general was subtle.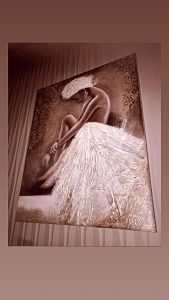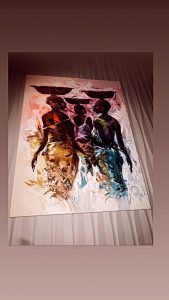 The décor is where the European influence was demonstrated the most; It was very modern and simplistic. This is far from the colourful, bright décor that is employed in African restaurants. African culture is often characterised by its bold and bright, geometric designs. The link to Africa, when it came to the décor, was articulated mainly through two modern West African art.
I asked the waiter and my friend, who're both first-generation immigrants, about the African restaurants they turn to when they are seeking a taste of 'home'. Interestingly, they both said that nothing beats their mother's cooking or a warm simple African restaurant, serving a mountain of rice, fish, assorted meat and a mixture of vegetables, and I couldn't agree more. For Africans in the UK, food plays an important role. It bridges the gap between 'home' and 'here', reminding us of where we came from, whilst planting us in the here and now. In a disembodied age, for many of us, food is a physical and tangible reminder of where we've come from and who we are. Unfortunately, in an attempt to create a modern African cuisine, Stork falls short of transporting its customers back home.
The end of the night left me with one question: can African cuisine be modernised and if so does that take away its authenticity? I think the concept of Stork was innovative and unique, but I wouldn't say it satisfied my burning desire to eat filling and authentic African food. It certainly gave me a unique perspective of African food in the West which I haven't had before. It was clear that Stork intended to change the perception of African cuisine, and demonstrate that it can be simple yet eloquent. This is a big challenge because people aren't familiar with such concept and often don't associate African cuisine with attention to detail. But then again, authentic African cuisine does exist in London, Stork is providing us with the modern interpretation that we've been missing.