North-Eastern-African restaurants during the COVID-19 Pandemic: Case studies of Djebena in the Hague and Café Lalibela in Vienna 
Introduction:
The COVID-19 pandemic that is still spreading throughout countries in Europe, notably also in the Netherlands and Vienna. The pandemic has affected many business owners, especially the restaurant industry who has been forced to close their doors yet again. Whether it be a small or a large diner, the virus has affected everyone on the supply chain. The same can be said about the Djebena restaurant in the Hague and the Café Lalibela in Vienna. Through an interview with the restaurant owners, we were able to make an idea of how much the virus has affected the industry and how they are coping through these uncertain times. This blogpost is a group project which was created within a lecture at Leiden University and discusses aspects such as customer service, food culture and grocery shopping for two different restaurants. 
To make the distinction between the Djebena in the Hague and the Café Lalibela in Vienna, the analysis of the latter will be written in italics.
Food cultures during COVID-19 
The owner of the Djebena restaurant in Leiden and the Hague was so kind to allow us to interview him on this subject. When I (Márcia) arrived at the restaurant on a Sunday evening my group members Sudi and Janina were inside already waiting for me. They were sitting at a table at the back of the restaurant, each still wearing their mask. At that time the restaurant owner, who is also the cook, was still in the kitchen preparing our takeaway. To avoid anyone from assuming that we were having dinner at the restaurant, he kindly asked us to move to another table near the door. This way, he says, it looks like we were just inside waiting for our takeaway. This somewhat hostile situation speaks to the current atmosphere in many restaurants under the new imposed COVID-19 restrictions. It has somewhat paralyzed the way we move and behave in society as many things that once were allowed, like eating in a restaurant, have now become illegal. 
When it comes to the restaurant itself, he tells us that it was easier to deal with the situation during the first COVID-19 related lockdown back in March. He gave us plenty of reasons for this but for this analysis, I will focus on one reasoning he gave us, namely that the aid provided by the government in the Netherlands is not enough compared to other countries such as Germany. He states that during the first lockdown they received financial support that amounted up to 4000€, which sadly they did not receive for the second lockdown. Furthermore, he tells us that this time around he feels economically empty and that it has become more challenging to deal with the situation. Even if he would have received support from the government it would not be enough he says, because the money hardly suffices to cover all the charges of all the restaurants he owns.
The consequences of the pandemic are not only felt economically but is also affecting the way food is produced. Luckily, he tells us that he always prepares the food himself even before the pandemic. Now, he prepares food for up to three days and sends some of it to Leiden where he owns a second restaurant. He does this especially for vegan meals and dishes that are more difficult to prepare and despite the uncertainty of the times, he has not given up creating new dishes and expanding his menu. It is evident that passion is a crucial part of what he does which explains his new passion Mwa Suwa (Eritrean for Mothers' beer). This beer is made from bread that he produces himself here in the Netherlands with a recipe initially only used by Eritrean mothers hence the name of the product.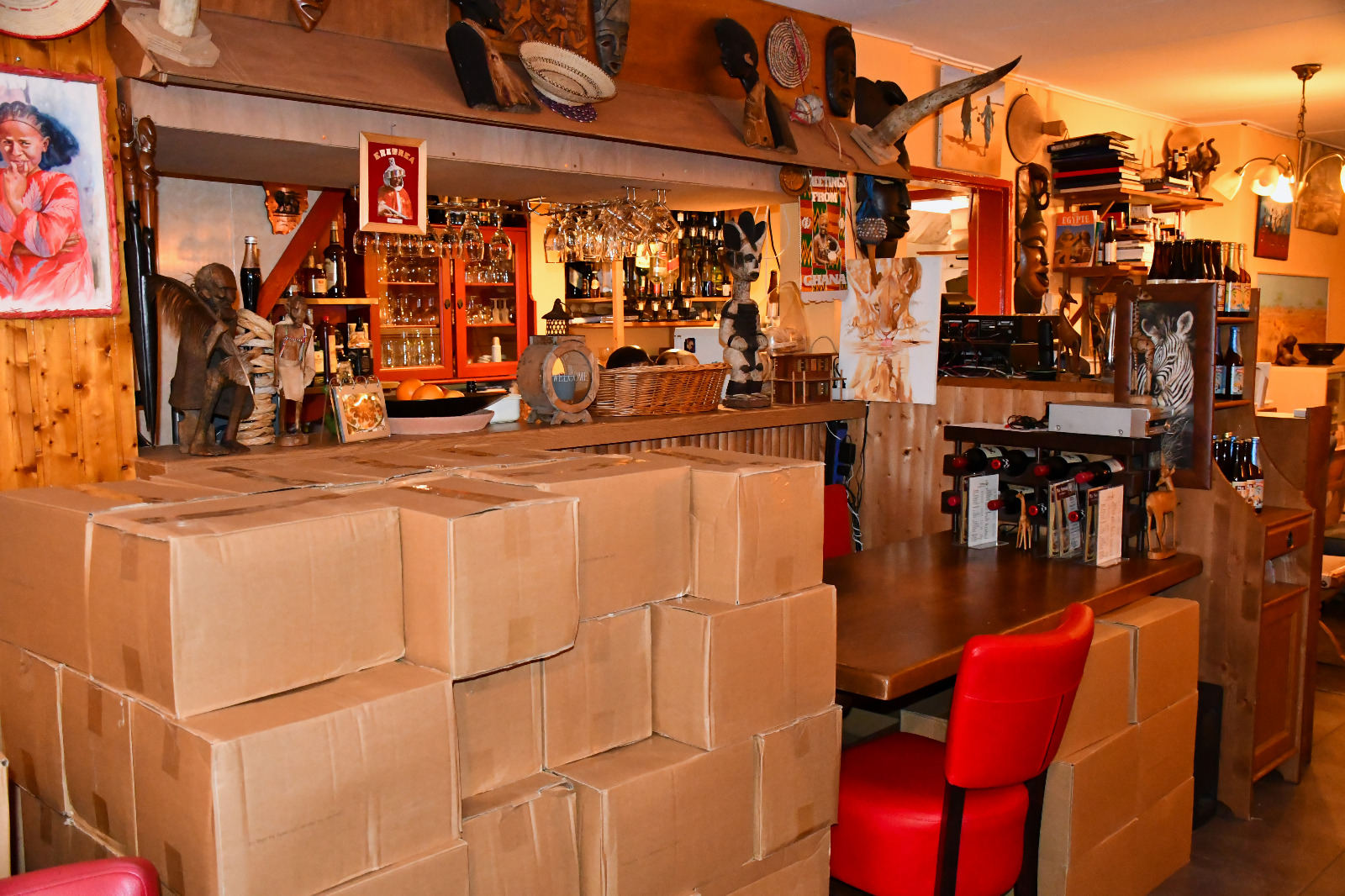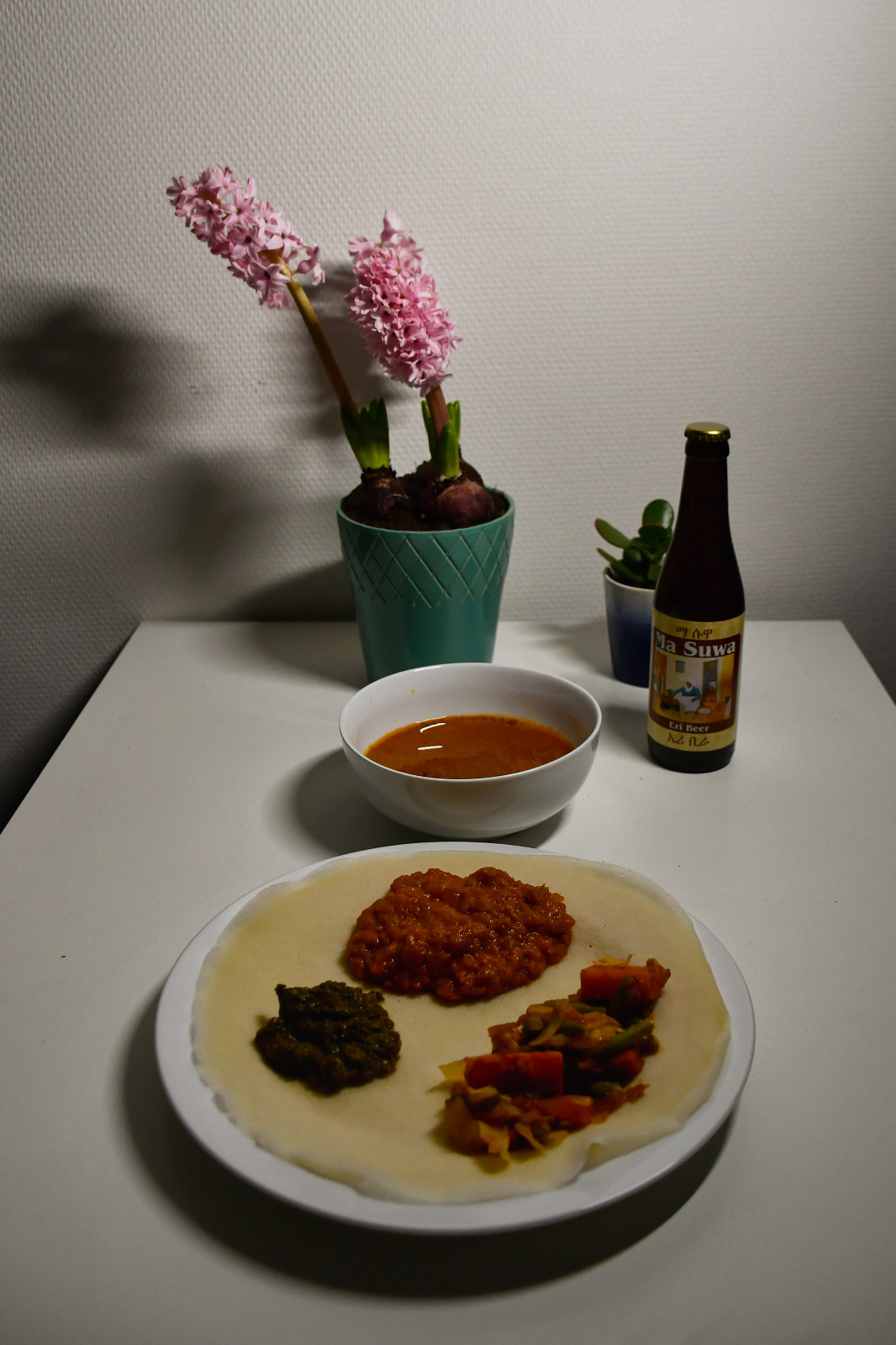 Before our arrival he prepared four vegan meals and as we talked about Eritrean food, which is what his restaurant specializes in, we learned the differences about Ethiopian and Eritrean food cultures. For instance, he explains that Eritreans mostly eat vegan this is because most people in Eritrea are orthodox Christians meaning they fast a lot throughout the year. In addition, we learn that meat is too expensive in Eritrea and therefore a lot of people cannot afford it and finally he tells us that Ethiopian food is too oily. Nonetheless, to him an Eritrean, there is not really any major difference or more importantly he is not worried about the differences because his dishes, he says, are innovative.
In Vienna, Halim, the waiter and the son of the owner of the Ethiopian restaurant, Café Lalibela, gave me a good impression on how Covid-19 affected their business. When I called asking for an interview he was really welcoming and told me he would be happy to talk to me. 
On a Saturday evening I made my way to Café Lalibela. Usually the streets would be filled with pedestrians and cars but since the lockdown everything was quiet and it felt more like it was  midnight on a weekday. When I got there Halim had already prepared a drink for me and his mother, the head chef, was welcoming me with a warm smile. 
We sat at a table by the window with a view of the Christmas lights on the street that had been hung  up the other day. The restaurant seemed like nothing had changed, the interior was still warm and welcoming, loud Ethiopian music was blasting out of the loudspeakers and the room was filled with the smell of different spices. Also the atmosphere was exactly the same as I remember on my many visits before, but without all the people packed in this small space. Throughout the whole interview I never had the feeling that we were in a lockdown, but rather as if it was about to open the gates for another evening full of good food, loud music and satisfied customers. 
When it comes to the lockdown Halim told me that there is no big difference between the first and the second lockdown. Of course they feel more hopeful this time because the Austrian government promised all restaurant owners 80 percent of the revenue they made in November 2019. He told me that with the profit of the delivery service and those promised 80 percent they would get even in November. Furthermore the restaurant was fully booked during the time between the two lockdowns which gave them hope as well. Halim told me that despite all the hope you can feel the tension which gets stronger day by day because they do not know when, if and how they are allowed to open during the busiest time of the year: Christmas season. 
When it comes to food culture in Ethiopia, he told me that his parents are proud Ethiopians and they wanted to bring a little home to Vienna, which is why they opened the restaurant. They wanted to show the people who live and visit Vienna the delicious food and drinks of their home country. 
Grocery/Supply Chain
During the interview, as the owner shared more about his stories about his restaurant, we got to know how personal the restaurant is to him and how genuinely passionate he is about his restaurant. After running the business for over 20 years, he still does the grocery shopping and cooking himself. Almost all the decorations in the restaurant have a unique story behind them. He also brews his own traditional Eritrean beer, which is not only available in his restaurants but also in other shops he works with, even in Germany. I (Sudi) believe that all the cooking and grocery shopping are also supervised or done by him.
The owner of Djebena not only cooks the food himself (especially the spicy meat dishes) but also does the grocery shopping himself on a daily or every-two-days basis. Due to the COVID-19 measures, a significant decrease in the number of customers and a stronger inconsistency in order are making the food preparation challenging. As a result, a lot of food gets wasted. In case of a large order, customers usually need to pre-order, so the restaurant can have enough time to prepare it. For example, the Shuro dish Janina ordered, needs to be pre-ordered at least a day before so he can have enough time to do the shopping and prepare the dish. He also suggested that the spicy meat dishes taste better a day after they were cooked. 
As a result of the lockdown and travel bans in many countries, international shipping costs have increased significantly. According to the interview, the restaurant owner told us that many spices he uses are imported from Ethiopia. Some are available from a wholesaler in the Netherlands, while the others need to be ordered directly from Ethiopia. How is he coping with such a challenge? Or is he smart and lucky enough to find his way to avoid this challenge? 
Overall, it is a relief to know that COVID-19 did not impose a huge impact on Djebena's grocery shopping and supply chain. The owner luckily had stocked enough spices before the outbreak of COVID-19, so he didn't have to suffer from the dramatically increased costs. However, the unpredictable and unstable number of customers has still made his daily preparations more challenging than before.
The quality and taste of the food is also essential for Halim's mother, the head chef of Café Lalibela. Before Corona, she travelled to Ethiopia every 3 months to buy spices and other important ingredients for the restaurant, as well as for her own use. Just before the lockdown she was still in Ethiopia, so she had stocked up to have enough for that time. When I asked if there were any difficulties to get ingredients afterwards, Halim denied. He said that the only thing that was difficult to get was alcohol. Before Covid-19 they had a wide range of Ethiopian beers and the honey spirit Tej, but unfortunately these drinks are limited at the moment. Other than that they can get some ingredients at some African supermarkets in Vienna. 
Speaking of which, a new opportunity has arisen due to Corona and the resulting boredom. Next to Cafe Lalibela is a former shop they use as a storeroom. During the first lockdown they were already thinking about converting it back into a store to sell spices, food and other Ethiopian goods. Now with the second lockdown they are already rebuilding and planning to open the Ethiopian store in spring 2021. Halim tells me with a big smile that even unfortunate events can lead to something new and exciting. 
Customers
On that Sunday evening, when I (Janina) conducted the interview with my colleagues Sudi and Marcia in Djebena, it was very quiet outside and the streets were empty. As by now it has become a usual practice and common first impression at the entrance, customers are kindly reminded to stick to the common hygiene rules. No people were passing by and entering the restaurant during the whole time that we spent in the restaurant. Only some cars and the police drove by, but there were simply no pedestrians. These empty streets have already given insights into the customer aspect of the restaurant and reflected the problematic economic situation restaurants are facing. Under normal circumstances, on a Sunday evening, one would expect many customers coming into the restaurant.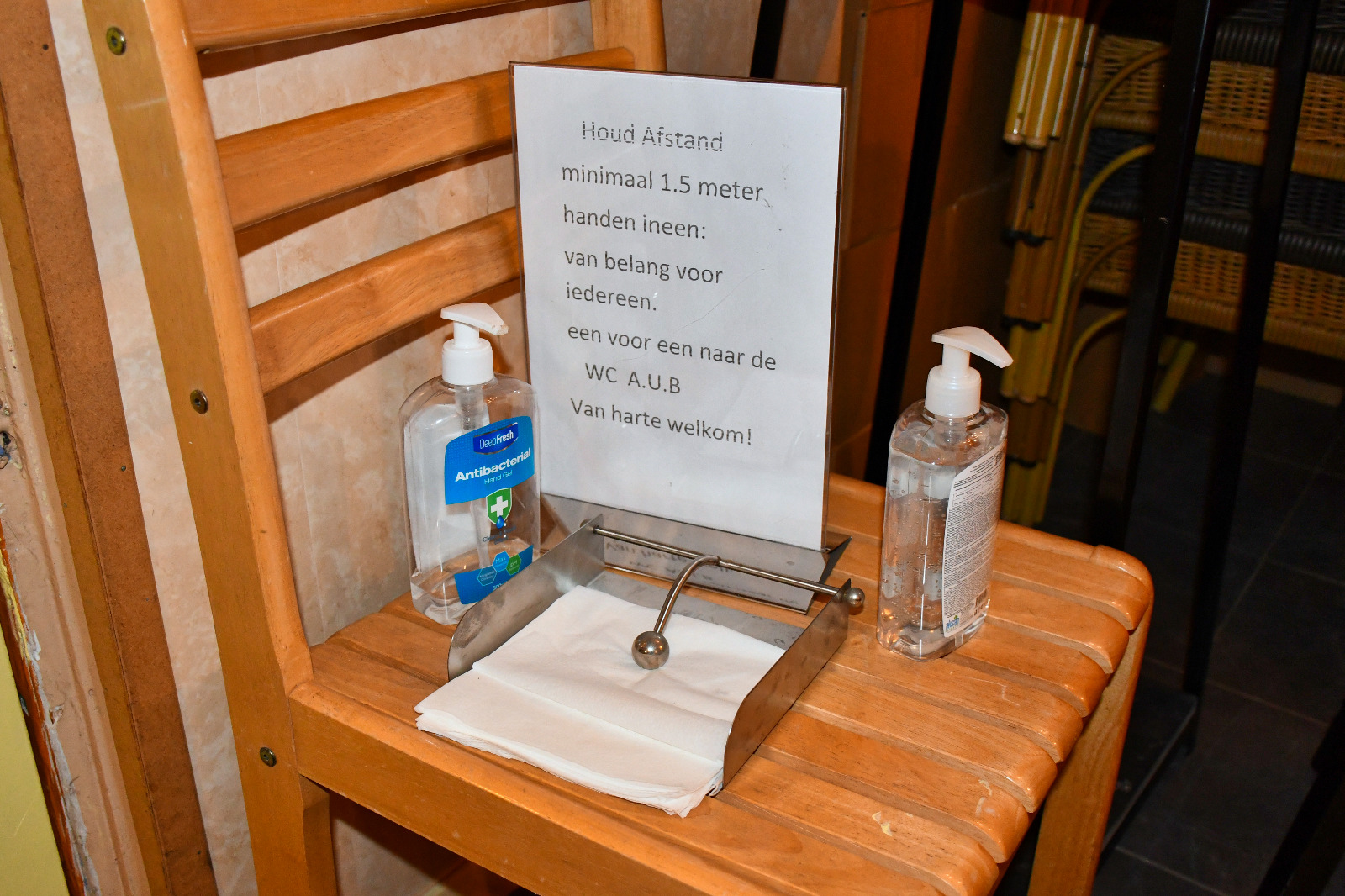 Either a restaurant has customers who plan on coming or customers who just accidentally pass by. However, the latter option is almost not existent anymore, since the social life in general slowed down. Not only restaurants and cafes have been closed, but for some weeks also museums and theatres were closed and people shouldn't gather in groups. The chances of customers strolling by have therefore been very limited. Yet, restaurants still have the former option, customers who plan on eating Eritrean food and opt for take away or let it be delivered to them. Especially now during COVID-19 times, customers might consider the delivery option.
The Djebena owner wasn't expecting another closing of gastronomy. Collaborating with delivery services or increasing web presence on their own, is something, owners could opt for. Surprisingly, this wasn't one of his main strategies in reaching customers. What we found out during the interview is that he truly trusts in the recognition value of his food. 
He explained why he believes the food to be so magical and we truly felt the passion he has for his profession. The fact that he has a solid customer basis is another point of why he still carries on in these times. He isn't very active on Instagram but believes in his regular customers and is aware of the important 'word-of-mouth-advertising'. In general, vegans and people of African or Indian descent regularly pay him visits. Noticeably, many students from African Studies are into his food. The latter also organized regular events in his restaurants which aren't possible anymore and this means considerable financial losses for him.
 Concluding, we found out that Djebena has a very passionate owner and chef. He is aware of the recognition value of his food and the solid customer basis. Even though he has this strong foundation and participates in new and innovative delivery and take away options, times are challenging. The longer the closing of the catering industry lasts, the more difficult it becomes financially to carry on.
Halim's father opened the restaurant eight years ago and since then it has been completely booked out almost every day. He told me that at Cafe Lalibela they welcome everyone, no matter how old they are and where they come from. You can see this in his clientele, which is completely mixed with students, elderly people and families from all over the world. Over the years they have built up a large base of regular customers, which benefits them also during the lockdown. They do not advertise on delivery platforms like mjam.at or lieferando.at because their regular customers know about their delivery service ,especially in the evening, they get busy with delivering. The taste and quality of food is according to Halim a big factor for their regular customers.
After the conversation, Halim's mother prepared me some food for take away and when I arrived at home my neighbor and I enjoyed the Injera with different stews and listened to some Ethiopian music. Even though the food tasted as delicious as always and we were trying to create a similar atmosphere as in Cafe Lalibela, it still was not exactly the same. Of course I will order their food again soon but I am also excited to enjoy the whole dining experience at the restaurant after the pandemic. 
Conclusion 
To conclude, the food cultures section has shown the many effects the pandemic has had in the restaurant industry from both the restaurant's perspective. From hostile environments to innovative creations, the COVID-19 situation has asked for a rethinking and re-organization of how we not only consume food but also how that food is produced. This is exemplified through both the interview conducted in the Netherlands and in Vienna. 
In summary, COVID-19 is a challenging time, especially for restaurant owners and their employees. You can feel the tension and worry of the uncertainty but still Halim and his family are full of hope and confidence that better times will come soon. And as he said before, unfortunate events can lead to something new and exciting.