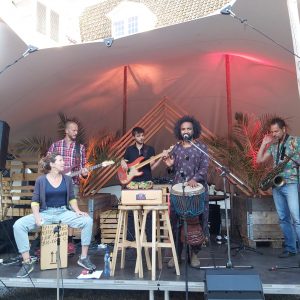 It was a perfect sunday afternoon, every dutch neighbourghood filled with humans basking for the nice weather.
I set out from my home in Utrecht on a journey to discover the African sunday, an event which was organized at de buurt 1.5 just behind the leiden university medical centre.
I didn't know what to expect but it was largely a wonderful venue with everyone minding their own business with their friends or family.
People were chilling in an outdoor garden within a palace like building surrounded like in a typical fortress.
The venue looked completely safe, private and open at the same time, a perfect venue for a typical African related event.
The venue hosted a bar, a children playing room, clean toilets, a buurt shop and several other rooms .
The attendies appeared to be mainly students but there were a few children and older people as well.
With calm African popular music in the back ground since 15:00 pm and indeed later, the Kush band led by Mo Ahmed from Sudan did not disappoint.
Stepping on stage at exactly 18;00, the kush band transformed the already cosy atmosphere with cool Sudanese raggae playing songs like Jerusalem among others.
Mo' was singing while playing two percussive instruments interchangeably, also a companied by bass, lead guitar, Saxophone and kakoum, inscidentaly , 3 of the musicians including Mo' perform in the band of yours truly Daniel Okiror, a key promoter of authentic Iteso music in the Netherlands and beyond and incidentally the student behind this blog!
Basically, there was nothing much about Africa in this event except the sounds in the background and Mo ahmed playing his African drums,
All the same it was a cosy afternoon.
It was an eye openner on what kind of African events exist in leiden, a beautiful venue but under utilized!  I thought to myself, what could electrically change when I decide to come to the same venue with 'a bang ' in a different capacity as artist- Daniel Okiror and the Africa Safari before the end of the year!