My third week at the university was relaxed because I slowly got used to my assignments. More importantly, I was gaining more knowledge with regards to the topic of Eritrean refugees in Ethiopia thanks to the recordings I was listening to and the summaries I was asked to edit by the researchers. After a couple of days of taking the Ride (Ethiopian version of Uber) to the university, I decided to take up the courage and start taking the "minibus". It was necessary to change transportation as 'the Ride' taxis were too expensive for my student budget. I live 13 kilometres away from the university in a residential area called Ayat. And it costs 420 birr daily go get to university from there. With a regular taxi which is a minibus in Addis Ababa, it costs 8 birr. However, I do have to change the first taxi in Megenagna, which was very challenging. Let me explain why. It is one of the busiest bus and taxi stops in Addis Ababa. During rush hour there are thousands of people walking around trying to get to the bus or taxi stop. On the first day, I tried to get to university with public transportation; I got to Megenagna with the first taxi. Once I got off, I had to search for another taxi to get me to 6 Kilo. The line was so long that it could have easily been 40-50 people standing and waiting for a taxi. Before getting there, I had assumed that since I lived most of my life in Cairo where I was used to seeing so many people at once that it would be possible for me to catch a taxi. I was wrong! There were too much traffic and people. Moreover, I would have never made it on time, so I decided to call a Ride.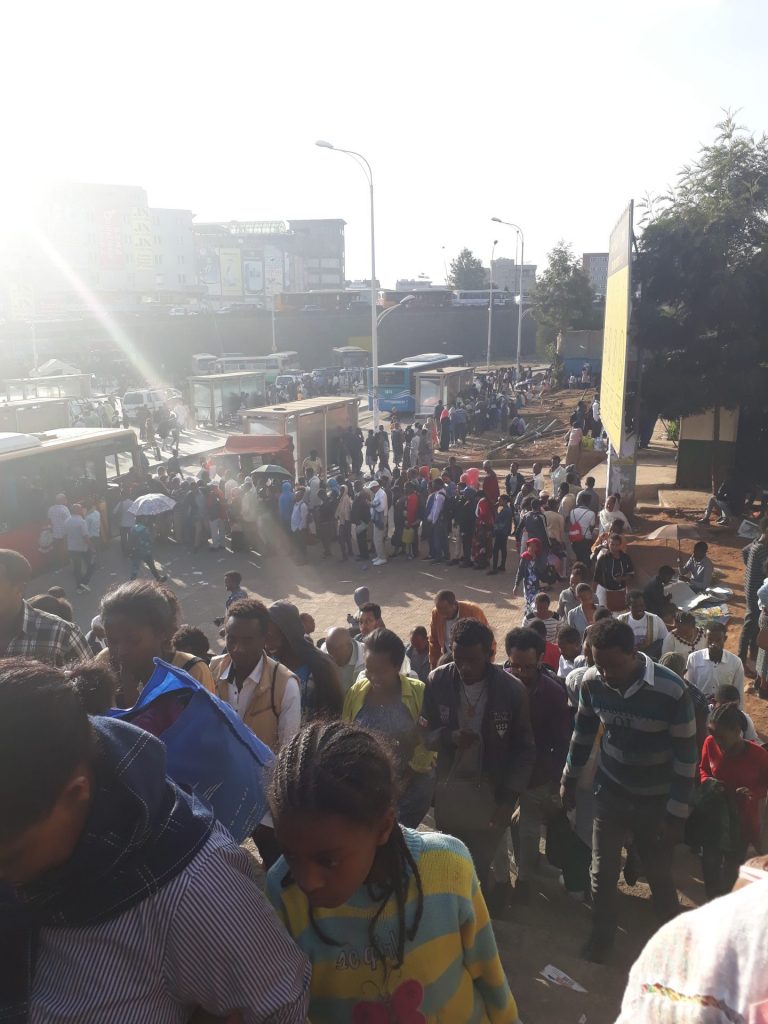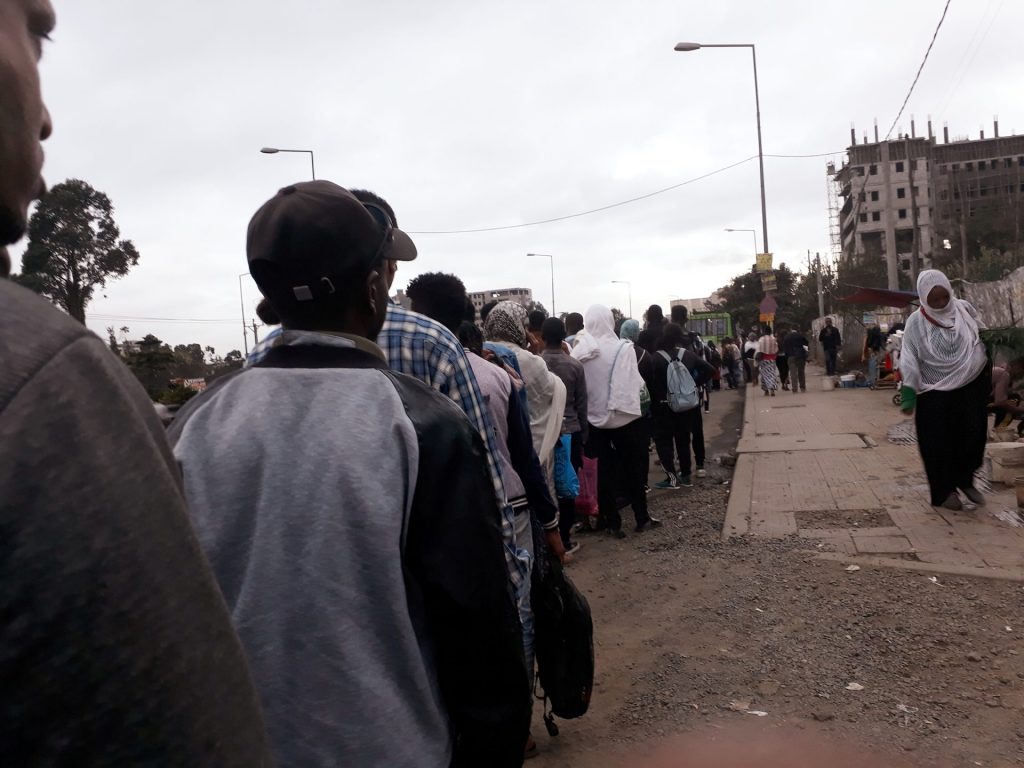 The next day, I got up an hour earlier and this time I managed to catch a taxi because I got to Megenagna at 06.30 am, where there had not been any line. For this week, my assignments consisted of translating from Amharic audio into English writing. I faced several challenges with this task. The first interview I had been assigned to do for this week was a focus group of three people. I found it difficult because the participants would not answer the questions posed by the researcher all at the same time. Other issues included music in the background, interviewees not being proficient in Amharic, strong accents, unknown acronyms and misunderstanding of the questions. In general, I got reintroduced to translation, which I had done in the past in Germany.
Second Ethnographic Site
For my second ethnographic site, I decided to go to a religious ceremony celebrated in Addis Ababa. I wanted to examine how religion or religious ceremonies bring societies together; in this case, the Eritrean refugees with the Ethiopian host community. I had been told by several Ethiopians and Eritreans that the two share religious festivities, granted they are both Orthodox Christians. First, Timket ጥምቀት is a celebration of Epiphany (feast day that celebrates the revelation of God as Jesus Christ. The event was celebrated on the 19th and 20th of January. The main reason is the baptism of Jesus Christ. As a result, there is a ritual of a re-enactment of baptism all over Ethiopia. The Tabot, a model of the Ark of the Covenant found in all Ethiopian alters is beautifully wrapped and borne by the head priest. It also represents Jesus as the Messiah. At the end of Timket, people are sprinkled on with water that has been blessed on by the priests. In 2019, it has been registered by UNESCO on the Representative List of the Intangible Cultural Heritage of Humanity. On this day, I was able to attend a ceremony and talk to many Ethiopians about whether they know of Eritreans refugees joining them. They mentioned that it is a day for all Orthodox Christians, and it brings the two communities together. This was very evident as people were wearing habesha kemis (traditional attire of Habesha women).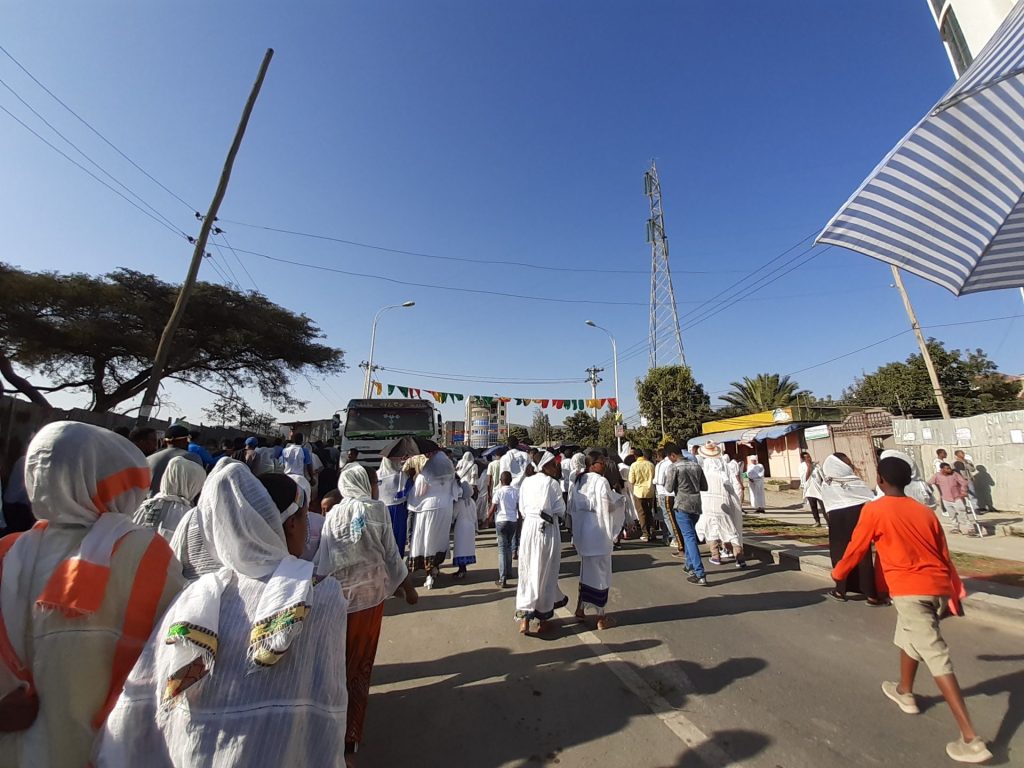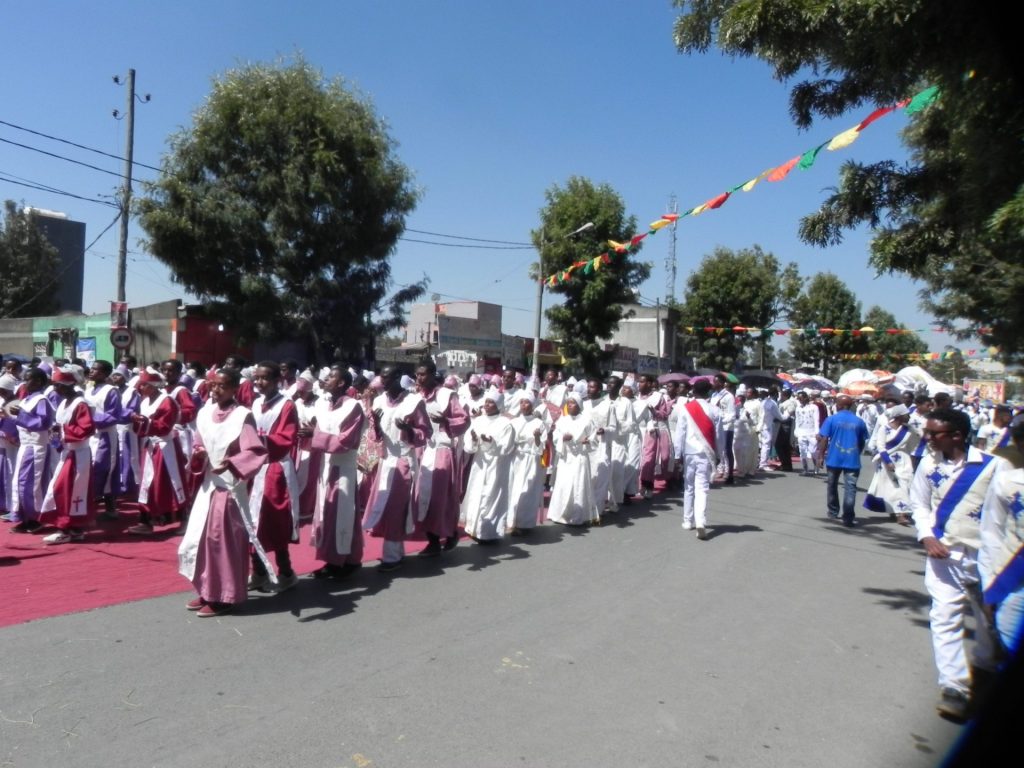 Amongst the participants, I could hear different languages such as Amharic, Tigrinya and Oromigna. A couple of days after Timket had passed, I was talking to one of the participants of my research about the celebration and asked her if she had gone. She answered as following "Yes, me and my friend went to Timket in Jan Meda (ጃን ሜዳ), it was so beautiful. A celebration where all Christians come together and celebrate in public, us and the Ethiopians together. You know other religious celebrations Ethiopians celebrate at home and we do not share moments like this a lot." She also added "my mother also celebrates Timket with her friends from her Mahber group" Mahber is a kind of religious association celebrated mostly every month, in a cyclical form. A small group of people who are aligned on commonalities such as ethnicity or religion come together to form a social network of support, creating harmonious relations among their members.