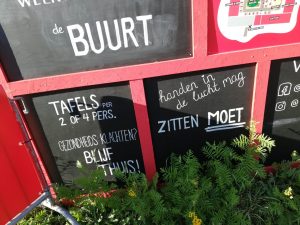 "De buurt" Leiden, 5:30pm. It is a sunny Sunday afternoon and I am sitting inside the old courtyard of Naturalis together with Samantha Da Luz, attending African Sunday. This is a small festival with African music (live-band and dj) and with barbeques. I already had a reservation with my friends, but I decided to go earlier to sit there quietly with my own thoughts and observations. The observations I made got me a little sad. I normally attend these kinds of 'African events' very often, and I can describe them as bubbly, eventful, full of life, and just as a happy place to be. Therefore, I was very excited to go. These kinds of events have not really been taking place since the Corona pandemic, so this was my first one in 8 months.
The very first thing I notice, is that everyone is sitting down due to the regulations, hence I expect not a lot of people dancing. The second thing I notice is that there are not a lot of people. There are a lot of empty tables, and almost all people are white and female. This is interesting to me, because normally I am one of the few white people at an event like this. This observation has got me thinking now about the participant observation, and about Mahlet who, in her research in Ethiopia, considered herself both an insider and an outsider. I am thinking of all the African events and parties I go to, and I do feel like an insider because I know most people, I am a regular attendee, and I am accepted. I get called "the white girl that is black inside", which flatters me. I am considered part of that community. However, I am also an outsider at these events because I am white. I am very obviously white. I can know the people, I can know the music, I can know the language, but it is not mine. It is not my background. This is what sets me apart as an outsider.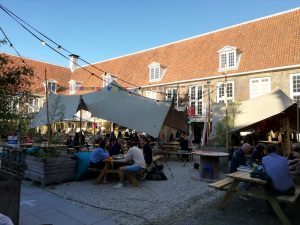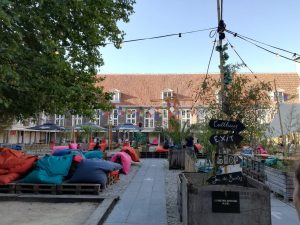 Whilst I am staring in the distance, thinking about my participant role, I notice that the decorations are not really in sync with the theme of the day. The decoration is mostly consistent out of Tibetan prayer flags and disco balls hanging in trees. I also notice that the tables are made out of oil barrels, which is ironic because that could actually be seen as African decoration since there is a lot of oil drilling in Africa. I am drifting off thinking about the oil drilling and human rights conflict. However, I smell freshly fried chips and for some reason that results in me regaining my focus. I think to myself that I am getting opinionated and sad, so I am trying to regain a fresh open perspective to continue my observation.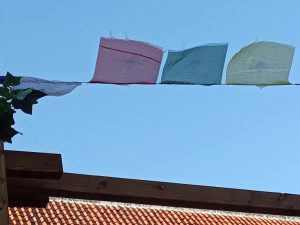 I notice that the people that are here look happy. I see no mobile phones on the tables or in people's hands. I see one woman dancing at the stage, she is wearing golden anklet bells which clink along with her dancing. I see a toddler's naked butt, and a girl in an entire princess outfit with bunnies. Maybe this is not the event that I am used to, but maybe this is an event where people feel free. Maybe this event is a place of acceptance.
The band is playing slow songs at the moment. It is 6:30pm. One hour has passed since I have been there. The kids that are there, which are about 15 kids, suddenly have a lot of energy and start to jump on the fatboys that are laying around. They are screaming and laughing, and the teenagers join them as well. However, after some time, three teenage girls set themselves apart and dance together. They suddenly have a very serious look on their face as they are dancing. For some reason that makes me giggle a bit. I look around and see people from all different age categories; babies, kids, teenagers, adolescents, until about presumably 50 years old. Hence, this event is not directed at a particular age category, which makes it pretty diverse.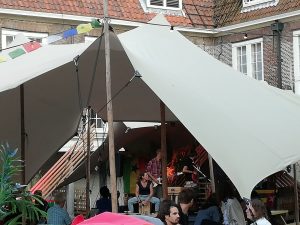 Three young women get on the stage to tell us that their friend Isa turned a new age today. The entire courtyard is singing and clapping for Isa. Even though it is not what I expected, it is a joyful place where most of the people seem content.
A lot of people are leaving now. I think because it is dinnertime. The people who are still here start their barbeque. It is quiet and peaceful.
It is 7:30pm. My friends have arrived. The DJ is playing reggae music. It is dark now, and not that warm anymore. More people are leaving as time passes by. The crew has started cleaning the place. Dj Rafiki is starting his set with a young woman with him on stage. He plays the beat and she sings Kenyan Swahili songs. After this, he plays music from Patoranking and Davido. This is the music that I know and love. My friend Jeremy has the same taste in music as me, and I see him dancing on his chair. His chair is creaking along with the beat. More Naija music is playing and Jeremy explains some songs to me. Jeremy speaks the language so he knows what they are singing. Most of the songs mean that it is a beautiful day and we should enjoy, so he says. I see two women in their presumably mid-thirties dancing at the stage and enjoying themselves. Maybe the joyful songs contribute to the joyous 'vibe' of the event.
I look at my notes and observations, and notice that it is all very chaotic. But that is also a part of me. I am a woman with ADHD, which means that what I observe and write down can be somewhat chaotic. However, I chose to write it down in my slightly chaotic style, because it is pure. It is exactly what I observed as an ethnographer, and it gives it a slightly personal twist. It might be filled with too much personal thoughts and details, but that would be my learning goal. It is probably my weakness and simultaneously my strength as an ethnographer.
Dj Rafiki plays "in this life" by Bob Marley, and I feel happy. I feel that even though the day turned out very differently than I anticipated, it was still a very joyful event. I got the chance to see something I regularly attend in a different light, and luckily it was a positive light. It has made me miss the African events and parties I normally attend, and excited to attend these in a different perspective in the future. I got to reflect more on my own position during these events and that has made me more aware of my own participation and position. It is 9.15pm; the song ends, and so does the night.