His grandmother's pounded yam, that was what he was thinking about on the train to Amsterdam. He could almost smell its silky creaminess that goes so well with ogbono soup. 'I'm telling you, I was almost salivating', he says when I meet up with my Nigerian friend at Amsterdam Central Station. I confess I also look forward to having my favourite Nigerian dinner: eba and egusi. The plan hailed from a nostalgia filled phone call in which we complained how we missed Lagos. If only we could taste a bit of home... It took my Breda-based friend mere seconds online to find a West-African restaurant with a mostly Nigerian menu in the south-eastern borough of Amsterdam, and we agreed to go 'chop' there next Wednesday.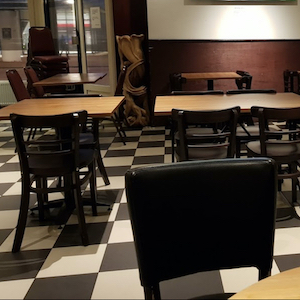 It's probably not a coincidence that African Kitchen is located in Gein. According to municipal data of the Amsterdam Research, Information and Statistics department (OIS) 15 percent of the inhabitants of the South-East borough that Gein is a part of have an African background, Ghanaians being the biggest group among them but also Nigerians, Eritreans and Somalians. This is more than in any other municipal area of Amsterdam, and I assume we won't be the only diners there satisfying their hunger for home.
On the metro to Gein we see ever more white people getting off, and people of colour getting on. When we get out at our station, the autumn evening air is chilly but I am warm with expectation. The restaurant skulks under the metro's rail line and its concrete surroundings full of graffiti tags are a far cry from the website's description of it being 'located in an exquisite neighbourhood rich with nature and natural scenery'. I cannot help but giggle. I know Nigerians to be excellent marketeers, and wonder if the idyllic description could be some of that Nigerian marketing talent in action.
When we want to enter the restaurant, our hearts sink. The door is locked. 'Hmpf, surely the place has been robbed one time too many', my friend snickers, 'We might as well be in Lagos.' For the first time, I realise his mood has sunk. It's almost as if he is expecting the worst of our outing. After some time a young woman in black T-shirt comes to open the door, explaining it is locked because of the draught.
'Báwo ni', my friends greets her in Yoruba, but his 'How are you' meets her blank stare. She turns out to be from the Dutch Antilles and has no knowledge of his mother tongue.
The corona distanced tables are all vacant and the neat black and white floor tiling only seems to emphasise the emptiness of the establishment. The TV on the wall – unmissable element in any Nigerian bar, however modest – is off, its dead widescreen reflecting the room's desolation.
'I told you we were going too early!', my friend turns to me as we pick a seat with our faces towards the entry. The waitress confirms that most people come after 8 PM, and those are even considered early birds. I realise I'd made the appointment to go at seven with too Dutch a mindset.
I must confess I don't mind too much. By now I have developed a second skin for the attention I get when I eat at a local bukka in Lagos, but it still startles me when I just rolled a nice ball of eba to scoop up the leafy edikaikong soup and am about to bring it to my mouth when suddenly someone hollers at me 'Oyibo! You dey chop amala?!' – which roughly translates as 'White lady, are you eating our local food?!' It makes the fly-on-the-wall thing sometimes hard to do in Lagos. At least we'll be without an audience, and we can eat in peace, I think.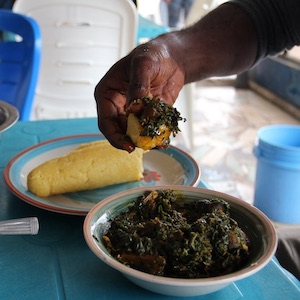 We decide to have a STAR beer – our first one since we left Nigeria – and order pounded yam and afang soup for him, eba and egusi for me. Meanwhile my friend seems to have decided to find fault after fault.
The smell in the restaurant, or lack of it:
'A bukka should smell of palm oil.'
The music, a mix of Lionel Richie and Michael Jackson:
'Old people's music! And not even Fela. Let alone Burna Boy.'
The food:
'Not pepperish enough.'
But worst of all: the pounded yam that comes with his afang soup turns out to be instant Poundo Yam, the freeze dried variety that you add hot water to. Not cooked yam pounded in a mortar for hours like his grandmother used to, whose arms had grown muscular in the process. To some Nigerians, selling Poundo as pounded yam is like making a Dutch stamppot with potato puree from a bag. Sacrilege.
'This place is not African o', my friend states as he gets up to wash his hands at the tap near the toilets, in what sounds like his final verdict. I am however thoroughly enjoying my first Nigerian food in half a year, especially my side order of moin-moin. The steamed bean cake has been my favourite ever since I first stayed in Nigeria. Back in the Netherlands I used to miss it so much that I came up with a recipe and put on the former version of my website.
I feel a tinge of guilt that my friend is not equally enjoying the experience, but when he comes back from washing his hands, his mood has changed for the better. 'When I opened the cold water tap, hot water came out', he says with glee. Now he feels comfortable, he adds. 'The plumbers are just as crappy as in Nigeria.'
His improved mood might also be caused by the place starting to fill up. Men – just like many a bar in Lagos the majority of customers is male – in their twenties and thirties, some dressed in T-shirts and jeans and also a couple of banker types in jacket and tie. The volume of the music is turned up, but over the sound I hear Akan from one table, Yoruba from another, sometimes mixing with words in Pidgin, the lingua franca shared by Ghana and Nigeria once described by Nigerian writer A. Igoni Barrett as 'the shortest distance between two thoughts'.
Of course my assumption that I would stand out turns out to be totally wrong. In Amsterdam South-East nobody looks up when a white woman eats eba with her hands. I enjoy my invisibility so much that I decide not to take out my camera to start taking pictures. On the metro back, with a takeaway pack of moin-moin on my lap, my mind goes back to my Nigerian friend's plumbing remark. What does it mean, I wonder, that the most dysfunctional element he managed to identify that evening, turned out to be what made him feel most at home?