How active were the people using the #EndSARS hashtag? Did they occasionally retweet a line someone else wrote, or did they create their own tweets supporting #EndSARS? How often did they do that? And did they translate their online support into real life actions?
At the height of the protests, twenty percent of the respondents said they tweeted at least every hour, and 64 percent said that they tweeted with the hashtag several times a day. A large majority also estimates they tweeted over fifty times. 8 out of 10 people, besides RT'ing others, also created their own tweets. But tweeting is not all they did.
The survey shows that the #EndSARS users cannot be accused of slacktivism: when asked if they did more than just tweet in support of the #EndSARS cause, 90% of the respondents responded that they did. Of those people, 15% donated money to the cause and 37% joined the street protests.
9 out of 10 respondents did more than just tweet in support of #EndSARS

37% of the respondents also joined the street protests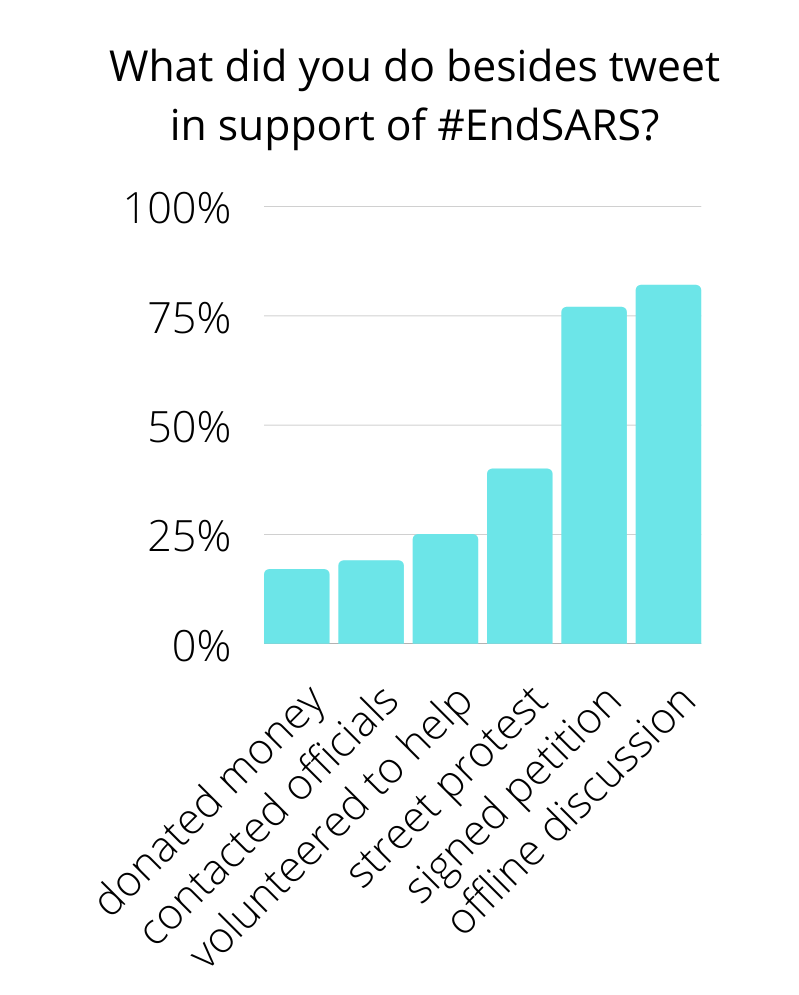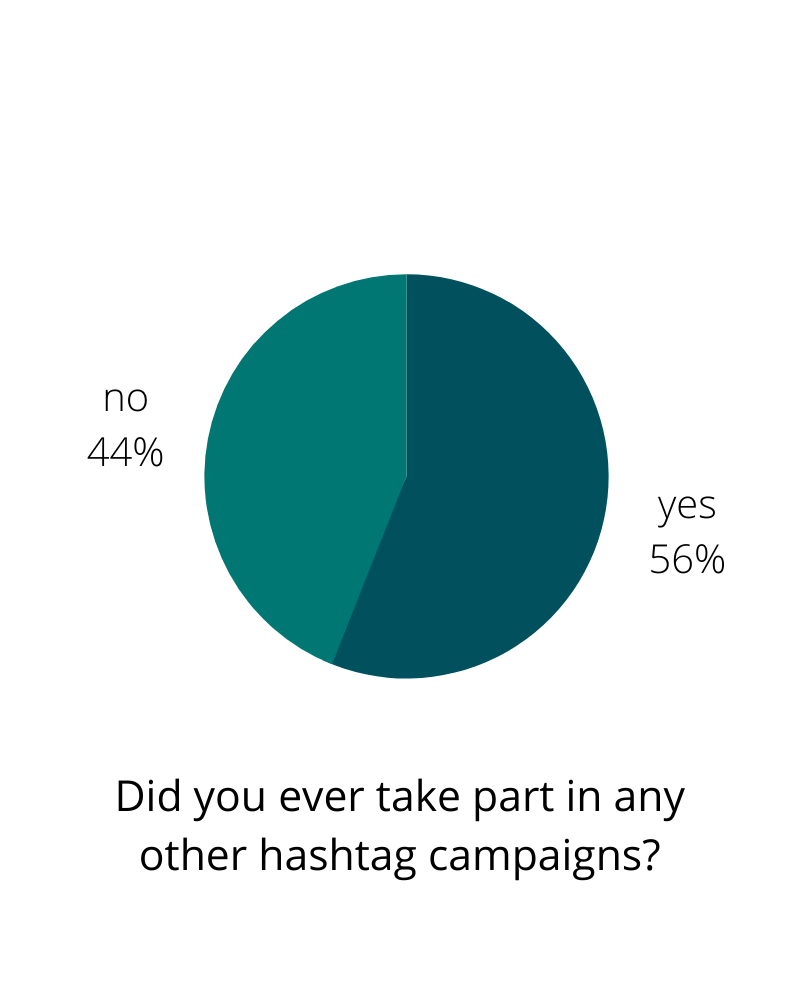 To a large minority, #EndSARS seems to have awakened their online activism. 44% of the respondents said never to have participated in other activist hashtag campaigns before. That might be an indication of the urgency of the matter as experienced by these newbie hashtag activists. Fighting injustice, raising awareness and showing solidarity were the most important motives the #EndSARS users mentioned.
The respondents who indicated they had used other hashtags in protest, often did so by widening their scope. The many variations of #EndPoliceBrutality and #EndBadGovernance suggest people's grievances stretch beyond the issue of SARS, and into the general role of government. Among the female respondents, the majority had used #BringBackOurGirls before, the famous hashtag advocating the return of the girls and women abducted by Boko Haram in Nigeria's South-East. The prevalence of a hashtag like #congoisbleeding shows a broader African perspective.
#BlackLivesMatter was another widely quoted hashtag. At the height of the BLM-protests in the United States, Nigerian Twitter showed a lot of support for this cause. The fact that #EndSARS is also aimed at ending police violence against citizens cannot be lost on anyone. BLM might have contributed to the growing political awareness of Nigerian Twitter users. As many Tweets during the Nigerian street protests pointed out: #NigerianLivesMatter.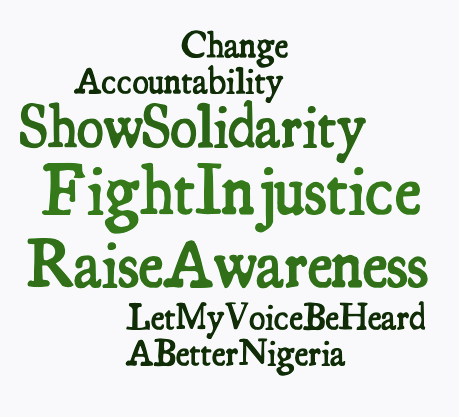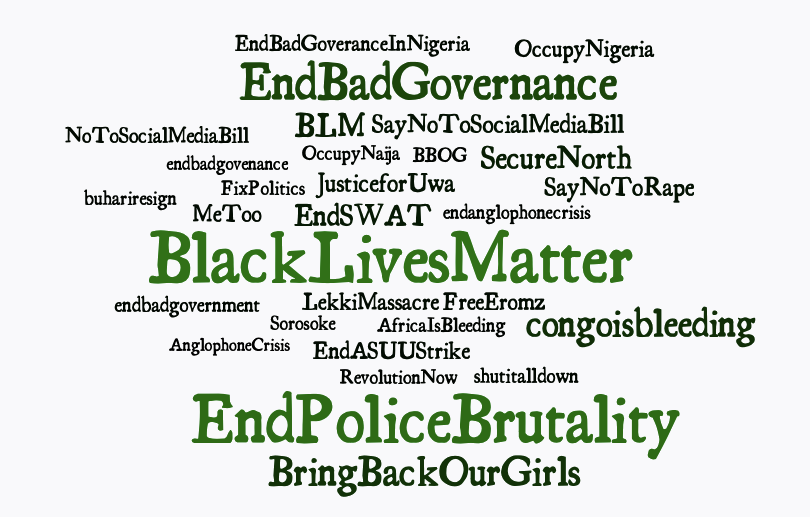 41-year-old activist from the US diaspora:
'I just couldn't stand by anymore. I might live abroad, but I gist with friends and family back home. I know about SARS and their wahala. Because I can't join my people in Nigeria on te streets, I decided to donate money. We all need to play a part in this. How could I tweet about #BlackLivesMatter, and ignore this? Nigerian lives matter just as much. We all found ourselves under one hashtag, no matter what tribe or religion. To me, that is patriotism.'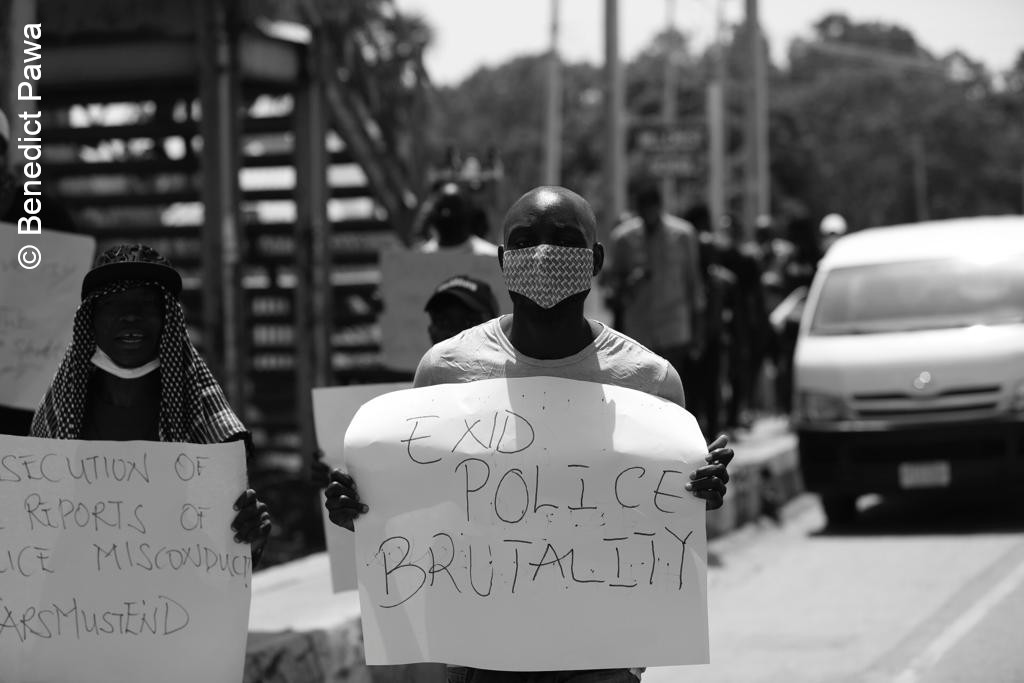 Aisha Yesufu, active Nigerian citizen:
'The Bring Back Our Girls Movement helped create a mindset, an awareness amongst Nigerians that we can stand up for something. Before that, many felt they could not hold the government accountable. Seeing that has helped citizens finding their own voices. Also, Black lives matter helped a lot of people to understand they have a right to live too. That triggered the #EndSARS movement. People were resolved to stand up for themselves.'