15th February 2021
During the COVID19 period, there have been continuous border closures. On the 15th of February 2021, while listening to the 94.7 Highveld Stereo radio station's 9'o clock news, it was announced that soon, some of the borders would be reopening between countries such as Zimbabwe and eSwatini. This led me to the question of how these border closures had been affecting diasporic communities in South Africa during such a time as this. Perhaps part of my struggle in being able to find diasporic respondents lies in the fact many were probably still in their home countries, having gotten stuck after visiting their families during the Christmas holidays and not being able to return after the strict measures that were announced the 28th of December. However, border controls vary from place to place. For example, during a weekend trip to Clarens from the 11th-14th of February, I was staying on a farm that bordered Lesotho. One of the residents indicated that a worker on their farm was helping them to secure alcohol during the ban in South Africa, by crossing the border to Lesotho once a week and bringing back beer. This task entailed walking through the river at the bottom of the farm, as the one bank of the river is considered to be South Africa and the other bank is Lesotho. Therefore, depending on your locality, there are areas that have soft borders – and cannot really be considered a hindrance to the trade or activities of artists that operate in South Africa. Stricter borders are in place to the North of the country, between areas such as Zimbabwe. Border posts and fencing has been put in place. In Lesotho, there is a border post and patrols that go out, but the lack of fencing or clear barriers negate any efforts of creating a divide.
One aspect that I had not previously considered was the conditions for selling art in Clarens. This dorpie (small town) is an intersection between the Maluti mountains, the Rooiberge and vast farmlands. Therefore, it is an unexpected place to find a thriving arts and culture community. In the square of Clarens one can find numerous art galleries, representing artists such as Johan Smit, Richard Rennie and many others. My experience of art in the community dates far back as I remember meeting artists, as a child, who had come for painting weekends at Sunnyside Guest Farm – a family favourite for a weekend getaway. Every year, artists would flock to this area during the autumn to paint the sandstone mountains and changing colour of the leaves. However, I had not really considered the number of artists in the area who are originally from Lesotho, because the close proximity of another country is at times, unfathomable. During my recent trip, I really started to question how many Basotho (people from Lesotho) artists come to Clarens and what are the opportunities for an artist in Lesotho and in South Africa respectively? Due to the nature of gallery representation in Clarens, it was difficult to contact individual artists. One informal space that sold some art and other knick-knacks were being run by a young girl by the name Ayanda. I asked her if she knew any artists from Lesotho and she asked for my WhatsApp, so she could follow up with me. She later provided me with the Instagram details for Ntate Stunna and Malome Vector. How approachable these individuals will be is still to be determined.
I encountered other diasporic artists that I had not imagined I would. For example, at the Art & Wine gallery (a relatively recent development) I came across a glassblower named David Reid. He is originally from England, born there in 1960, but has moved to South Africa in 1984 and settled in Cape Town. Therefore, the origin of diasporic artists is growing much broader than I had expected.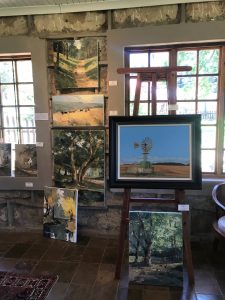 Figure 1: Art & Wine Gallery
A casual conversation with artist Tieho revealed some interesting information. I bought two small paintings from him that he was selling on the grass in Clarens' square. He indicated that he was originally from Clarens but did his formal education in Bloemfontein. He said that he had studied art and graphic design. When I asked him about his career, he stated that he had returned to art and to Clarens because he could not afford the technology and software, he needed in order to continue to pursue graphic design. This was disheartening because of the ample opportunity there would be for Tieho to help do design-work for new businesses that continue to open in the Clarens central district. Furthermore, farmers and producers in the area need help with designing labels for their produce. This then indicates that the level of opportunity is not equal throughout South Africa. Furthermore, it draws to the question of how competitive is the informal and formal arts market due to increasing competition between locals and expats?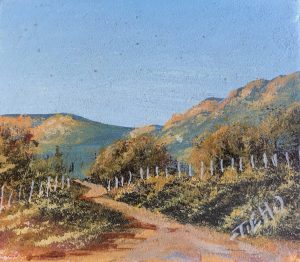 Figure 2: Artwork by Tieho