In this podcast, I discuss with our guest Sara Errahioui, a Moroccan business student, the identity of Morocco. We highlight Gnawa Music and tradition.
'Guembri' is a camel's neck skin-covered instrument used by the leader of Gnawa Music's band called "Maâlam". Maâlam is the one in charge of leading the spiritual ceremonies used for witchcraft or traditional medicine.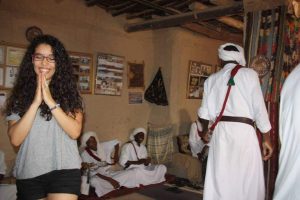 Image: Sara Errahioui with Gnawa Music band in Khemliya village, Merzouga, Morocco.
Artists: – Mehdi Nassouli – Simo Lagnawi of Gnawa