Discussing Transnational Identities Within, and Out of Africa
By Mathijs Cazemier and Gilda Christina Rodrigues
Sitting Down with Axelle and Mo
Meeting point is a podcast that discusses African transnational identities. In this episode we sit down with Axelle do Rego, who was born in Ivory Coast, but has Togolese roots. At the age of two, she moved to Tanzania, and ended up settling in Europe, first in France and later on in the Netherlands. Our second guest Mohamed Mussa was born in Tanzania, moved to the UK at the age of 7, and later moved to Germany and the Netherlands.
On Transnational Identities
De Fina & Perrino argue that transnationalism is a direct product of globalization, where different global interactions might push masses to find other work opportunities elsewhere than their home countries. These global changes have an impact on how identity is constructed and negotiated within these transnational communities, as well as outside of them. This leads to the creation of transnational communities composed of individuals subject to "in-betweenness" and hybridity. Thus, for this podcast, we wanted to sit down with two individuals who have transnational experiences within Africa (Ivory Coast, Togo, and Benin), as well as in Europe (Tanzania, the United Kingdom, and the Netherlands).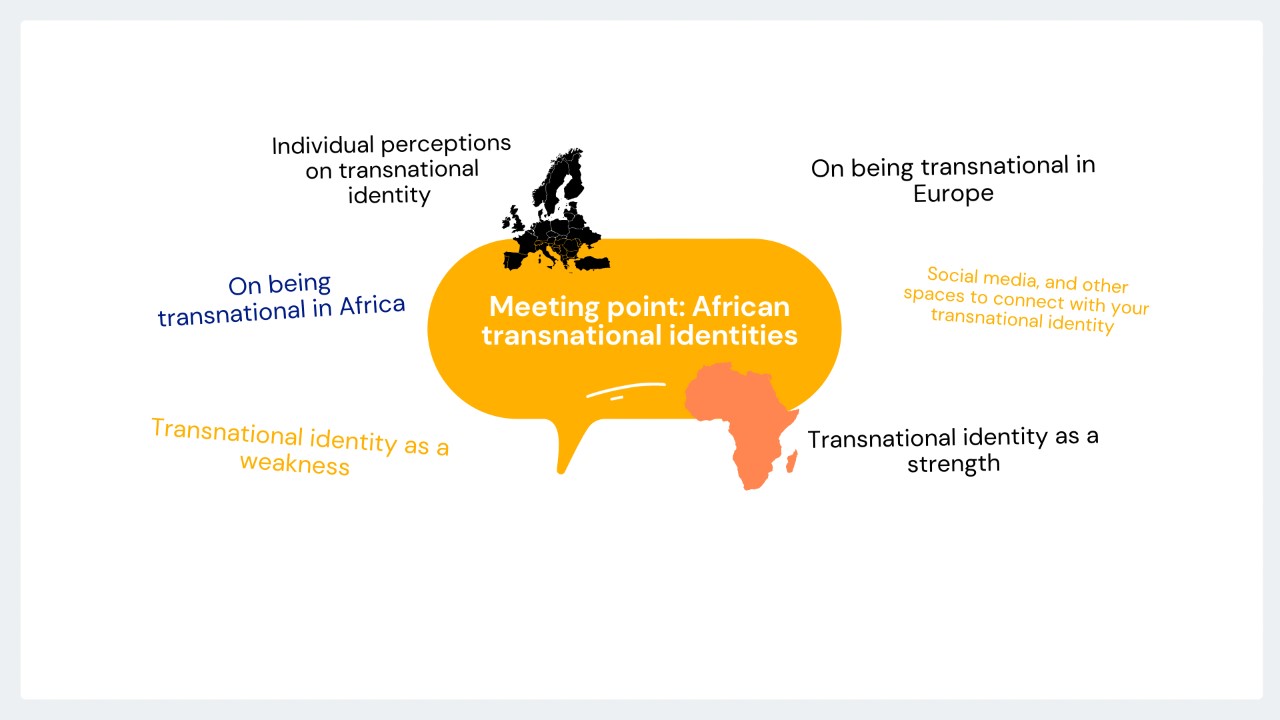 Listen to Axelle and Mo's experiences!
Conclusion
We would like to thank Axelle and Mohammed for being our guests on this episode of Meeting Point. Both the process of making and listening to podcasts on different themes that highlight the experiences of people on the African continent and in the diaspora enables us, as researchers, to fully explore the dynamics at hand. Podcasts can be used as an alternative to reading or observing phenomena from the outside. By engaging in conversations with relevant stakeholders, one gets more of a complete view of how the subject discussed works in reality.
"The problem if you get too deep into it [finding your transnational identity], you get back in this lost world. I think it is important to just have faith in yourself, and to understand that this is not an weakness but a strength."
Bibliography:
De Fina, A., & Perrino, S. (2013). Transnational Identities. Applied Linguistics, 34(5), 509–515.