Introduction
When thinking of a topic to research for the Researching Africa final assignment, Andrea talked about how we could focus on art and music, which I found to be very interesting. The first idea we had was to go to a so-called "African" party and decided to go to Mama Africa as I had heard about it from some friends in the Hague (see Figure 1). After dividing our group, I was responsible for analyzing the topic of African music in the Hague from the audience's perspective. My goal was to find out what kind of people go to Mama Africa and their motivations for going to African parties. This research aimed to answer the following questions:
Who makes up Mama Africa ́s audience in the Hague? Why and how do they listen to the music?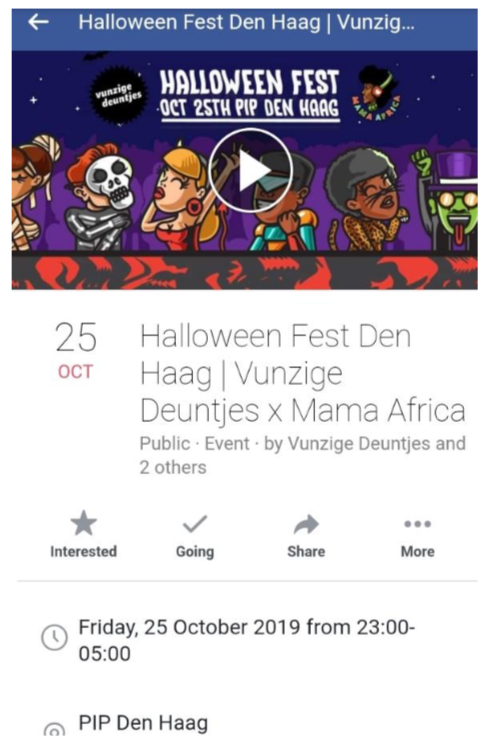 In between, we decided to not write about Mama Africa and instead focus on Philou, another artist that mixes electronic music with sounds from the African continent. However, this created problems for us as he was not available to interview. As a result, Kim suggested we stick with Mama Africa, which brought me back to my above-stated research question.
Methodology
Ethnographic Site
Our ethnographic site was a music event at Paard in the Hague, close to Grote Markt in the city center. The event was a party thrown by Mama Africa on Halloween, and the area was comprehensively decorated with bright and seasonal features in and around the venue. Audience members came dressed in various costumes, many of whom wore face paints and other Halloween-themed cosmetics. From observation, everyone seemed to be between 18-35 years old and represented a diverse range of nationalities, including African and European countries. Their ethnic composition was also mixed, comprised of both white and black people. There were a lot of people from the African continent and diaspora, more than what I had ever experienced in any other party in the Netherlands. There were several rooms playing different types of music. In the first one, the DJ played a set of 90's hip hop tracks called No Diggity.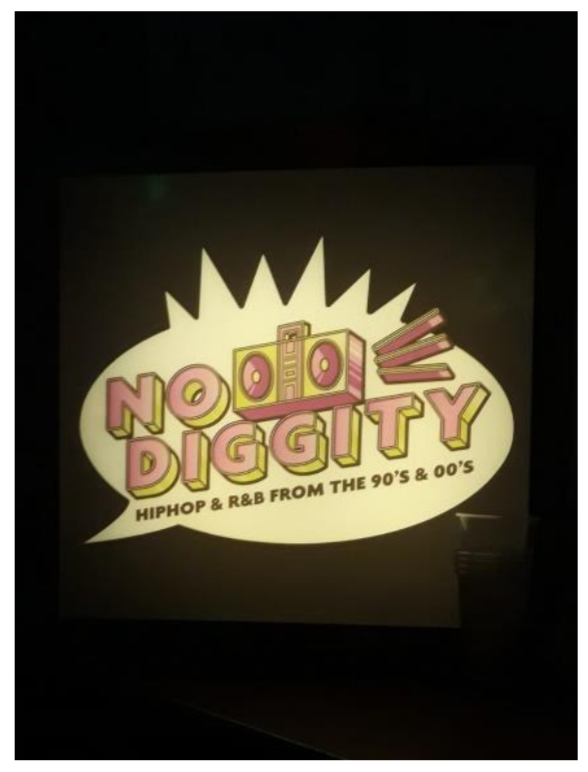 Modern Afrobeats music was being played in the main room, which is contemporary pop music mainly from West Africa and its diaspora from 2000-2019, comprising artists such as Burna boy, Yemi Alade, Mr Eazi. At one point, a song by Burna boy called Ye was played, and I was surprised to find that most of the audience recognised the chorus and other parts of the song and were singing along, thereby making it easier to build a bond with one another. Moreover, at different moments people were gathering and dancing together in a circle, cheering each other on as they did so.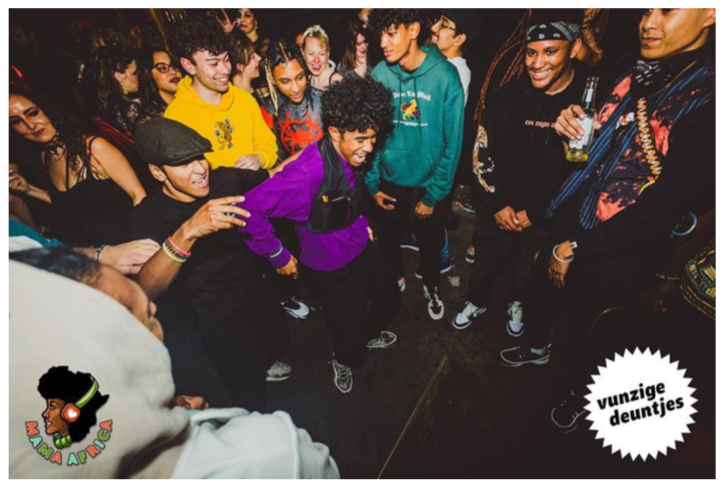 These circles were mostly formed by the non-European looking audience. I personally found this to be surreal, as it wasn't something I was used to seeing in the Netherlands. This kind of group dancing is very much part of the Ethiopian and Eritrean musical and dance experience, something, I have experienced growing up during family gatherings in Ethiopia. As a result, I was pleased to see people taking part in this bonding experience in a different setting. This also came up in discussions at the interview stage, which further made it possible for me to identify with my respondents.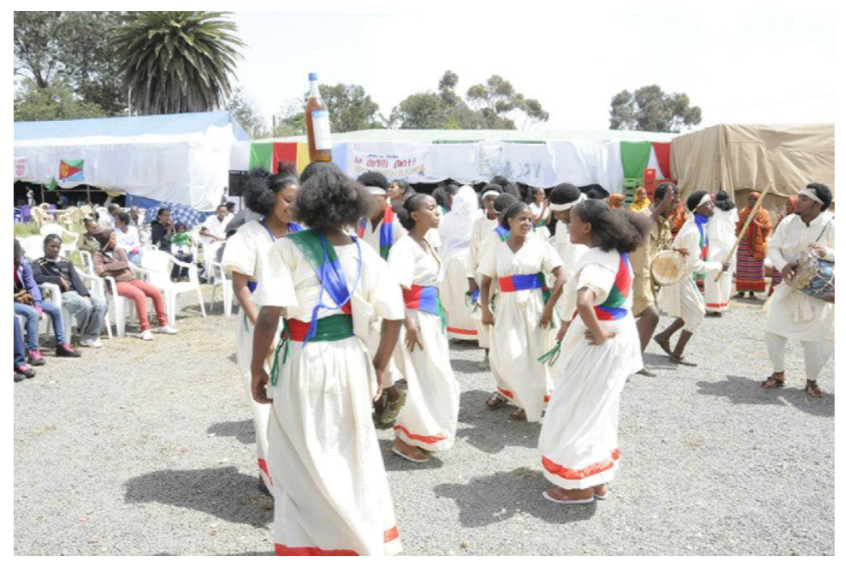 Semi-structured Interviews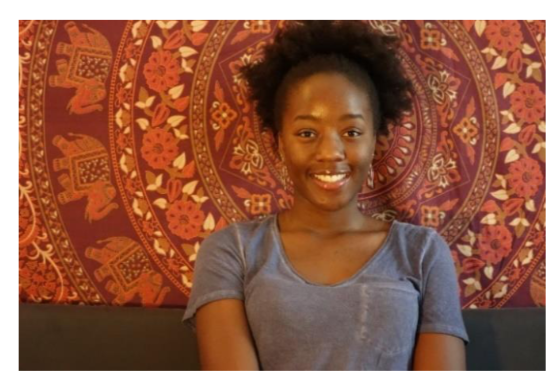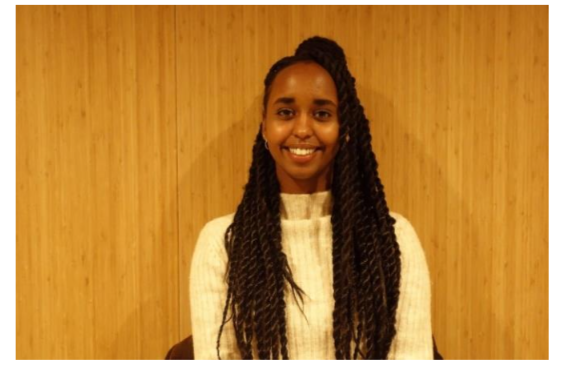 African music in the hague
Finding participants was very easy for me, as the girls with whom I had been in contact with for another project were Mama Africa fans and were very much involved in the diaspora community in the Hague. During the interviews, I noted they were all from the African diaspora living in the Hague or Leiden. This made me think that Mama Africa is helping to link Dutch/European culture with that of the African continent. However, they made it very clear that for them it was linking their heritage or what they had experienced in Africa with the Netherlands, saying it gives them a space where they feel comfortable. I realized it was crucial to know more about other demographics within the audience of Mama Africa, such as its European listenership. Thus, I suggested to Alma that we look into this perspective.
Reflection on Technical Matters
African music in the hague
Using MovieMaker and DaVinci, I edited 1.5 hours of footages into 45 minutes, then further cut the video down into 15-minute clips, before finally settling on a few clips with a runtime of 1-3 minutes. At first, I used MovieMaker to cut down the document as DaVinci only worked well when I had videos with a duration of 10 minutes or less. This was not a very challenging task as I had already used those two programs for my language and communication project. Additionally, the audio recorded by the camera was of high quality, making it unnecessary to merge the sound and video.
Reflection on the Medium
Our final product was presented by Canva, a graphic-design tool that uses a drag-and-drop format and provides access to photos, images, graphics and fonts. In our Canva presentation, I incorporated small clips of my participants to bring out their stories through their own lens and allow them to tell their experiences rather than have me write about them. However, I did add some small text to guide the reader through the topic. Each of us made different slides, some with more text, others with videos making it easy for our team to work according to our individual preferences. Like Slices, Canva did not allow us all to work on one document at the same time, so we decided to take turns to work on it.
Challenges and Unexpected Events
We had several challenges with this research. It all began with an artist called Philou, whom we found to be very interesting and a good fit for our project as his main goal is to transmit his African heritage to a larger European audience, and, as such, link the two continents together through music. Once we realized that could not interview him, we decided to go to our initial plan of focusing on Mama Africa.
We wanted to present the data as a mini-documentary on the parties – letting our participants talk about their experiences directly to the audience. However, it soon became clear that making a documentary was not an option since we found it difficult to arrange interviews with DJs, and thus were not able to collect the necessary data.
We also had to move away from the idea of a video presentation of the data and move towards presenting the data in written form with some visual aid. After choosing another medium, Slices, we were not able to work with the program for some reason. As a result, we decided to use Canva, with which I wrote two small blog texts about the audience and inserted them into some short video clips.
This project has taught me a lot about what it means to present my findings in another form and the effort it takes to make a short blog post. I feel I have learned a lot about how to conduct interviews, and how to utilize small technical tools I may need should I decide to present my own MA thesis in such a medium. Mostly, it has made me consider the things I will need in Addis to make that a reality.
Image sources
Eritrea Chat. "The Ponderer ́s Corner Shifting Nature of Our Dancing." Accessed December 22, 2019. URL: http://www.eritrea-chat.com/wp-content/uploads/2015/09/Eritrean- Traditional-Tigrinya-Dance.jpg.
Mama Africa. "Mama Africa- Photos." Accessed December 22,