At the beginning of our research project we had envisaged to carry out a survey as a starting point to inform ourselves on broader trends on the use of money transfer services in The Hague. Prior to our first ethnographic encounter with the field, we prepared a questionnaire that we intended to share amongst people we would meet in the shops in The Hague. However, when two of our group members visited various facilities in The Hague for the first time, there were hardly any encounters with prospective participants. Consequently, we decided to put the questionnaire aside. At a later stage of the research process, however, we decided to resume the questionnaire idea. Acknowledging that we had been facing difficulties finding participants that were open and comfortable to talk about their use of money transfer services, we decided to redesign our questionnaire into an
online survey
via the platform SoGoSurvey. In that way, we hoped to reach more people and could improve our participants comfort in answering questions about a rather sensitive topic.
Unfortunately, we had made some minor mistakes in the design of our first online survey, which is why we had to redo it a second time. The initial idea was that the research population would be members of the African diaspora in The Hague. Yet, we realised that in that way the number of cases we had, was way too small. Therefore, we decided to share our survey not only amongst members of the African diaspora in The Hague and the Netherlands, but also amongst people living on the African continent, as they would be constitute the counterpart (receiving or sending) to people in the diaspora.
Finally, in the second run, we had 26 cases of whom 58% regarded themselves female, and 42% male. About two-thirds of the partipants were between 25 and 35 years old, another 20% between 18 and 25 and almost 8% between 35 and 45 years old and above 45 years.
The large majority of our respondents resides in the Netherlands. Other more frequent countries of residence were Germany and Belgium. The rest
of our respondents currently live in Malawi, South Africa, Uganda, Kenya, New Zealand, the United Arab Emirates, Ghana and Zimbabwe.
To assess the importance of money transfer services between members of the African diaspora and the African continent, we created a filter for cases including members of the African diaspora and nationals of African countries. This applied to 21 cases. Of this group, a large majority of 90% makes use of these services (compared to 80% of the overall research population).
It's just much easier to deal with online
Why would I go to a store if I can do it at home?
It feels safer that way (in the shop)

Do you use other ways to send or receive money?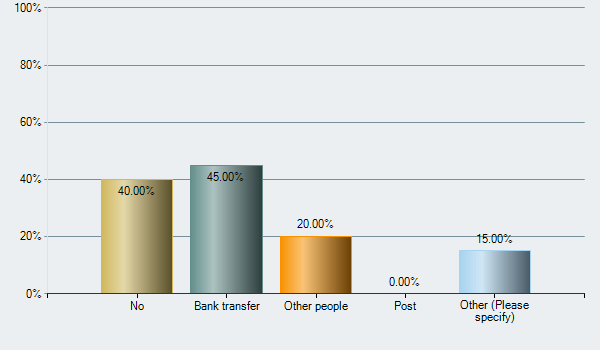 Figure 13
Overall, our respondents very generally quite satisfied with the services of the money transfer providers they used. When asked to rate how satisfied they were (0 = not satisfied at all; 10 = could not be more satisfied), the mean value among all respondents was 7.41.

Although high transaction costs remain a major disadvantage of these services, many people still rely on those services and acknowledge their benefits such as the instantaneous and safe transfer of money without having to use a bank account.
The rates are quite expensive
Its fast and instant transfers, saves a lot of time when done online
It's the quickest and trusted way. I like it
It's costly and the currency exchange rates take up much of the money. But it helps.
The cost of sending is quite high likewise the time it takes for the receiver to get the money
Without them, life would be slow. However, there is need of improvements
Sometimes the charges can be a lot