Africa Studies Center Leiden
There is mere silence, everything is ordered, hand sanitizing bottles are on every table and arrows on the ground indicating your movement. It is COVID19 proof. There is nothing happening besides one person at a table working and some employees in their offices. There is not much to observe. Yet, one would be greatly mistaken to state that the Africa Studies Center Leiden (ASCL)is a boredom-haven- COVID19-proof location. Open any book or magazine or even slip a CD in the your computer and a whirlwind of information will hit you.
ASCL is located in a  faculty of social and behavioral sciences from Leiden University. From central station it is just a five minute walk to one of the Leiden's, personal opinion, less-alluring University buildings. Everything is COVID19 proof and in order to enter the ASCL one needs to have made a reservation. Thankfully I had an appointment with the director, Jos Damen, and entered the library with clean hands. Damen's office is the last in a row of 5 offices and easily miss-taken with a forgotten archive room. The amount of boxes and lose-papers in Damen's office indicates the amount of information available in the library. Currently there are 91,000 books, 90,000 journal articles and 1,700 films on DVD and hopefully these numbers will only increase. It is not strange that while looking for Africa in the Netherlands I ended up in a library filled with information concerning the continent.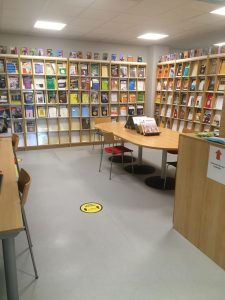 ASCL is a research library and that allows for the endless numbers of boxes filled with archival material, only recently the ASCL received two donations allowing an addition of knowledge to the library and access for anyone with affinity in the two areas or subjects. Yearly an ASCL member travels to the African continent to attend a book fair, last year in Somaliland, collecting 500 books or to Nigeria, for example, 150kg worth of books. One can imagine the airport hassle. Upon arrival back in ASCL these books need to be reviewed, scanned and sorted in the library, a short version of the process. Eventually students from all disciplines are able to open them, study them and gain knowledge from the brought materials.
Unfortunately due to the current pandemic the library seems less lively. Even though every library seems less-lively at this moment it does feel strange that all the books available are not being viewed or scrolled through. The photographs are not seen and movies are not watched. It might seem a bit melodramatic but it is a weird sight, a location with so much information it overflows but hardly anyone using the availability. One student was studying in a corner and another had a whole table set aside for a current developing of a given archive. Some offices where filled with employees but aside from a master students observing the library there was no one enjoying the books.
What allows for an interesting observation is not the people attending, but the people left in the library. This might seem a bit sacred, but what is interesting to observe are the people who have their archive in the library. What allows Deborah Bryceson (see image) to share her archives or why would Frans Verstraelen donate his used document? These are the questions that make observing in a library all the more interesting.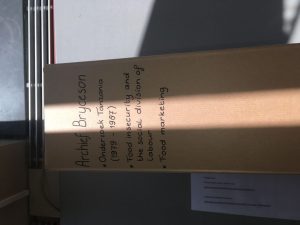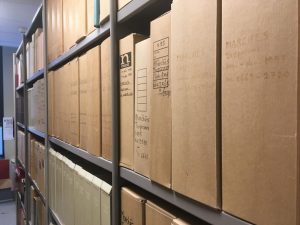 When leaving the library you realize that you are back to reality. Time stood still in the library, maybe because of the silence or the observational agenda I held, but nevertheless re-entering the university complex everything moves one speed faster compared to before. This exaggerated example of the ambiance that ASCL offers may have been a one time experience personally but does not hold the fact that everyone should visit the library and delve into the available books. But don't forget to make a reservation.