The place wasn't busy when we arrived. There were two people, presumably a couple, sitting at the back of the restaurant. A couple more people were sitting outside, but we opted for a table inside near the window, so our experience wouldn't be disturbed by the taxis outside driving way over the speed limit. During our time at the restaurant, a couple more people would come in, but most of the tables would stay empty.
We, Janina, Indy and me, had opted for this restaurant, called Viva Afrika in Rotterdam, because it was one of the only African restaurants we could find that was open on Monday. It looked cosy and the pictures of the food on their website looked delicious. I didn't really know what to expect; my experience with African food is quite limited, only ever having been to the Gambia and to the East African restaurant Djebena in Leiden. I was a bit nervous about the ethnography part as well; As a political scientist, all my research has been purely quantitative in nature. Regressions and correlations were everyday business, but would I be able to really grasp the ambiance and put it on paper?
Even though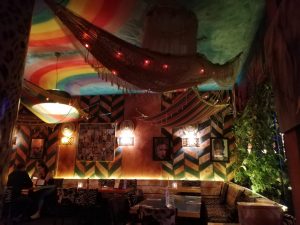 my experience with Africa is very limited, it's funny how familiar the place looked and felt. The aroma that greeted us the second we stepped into the restaurant made me giddy and excited to finally eat injera again. The place was bursting with colour and emitted feelings of warmth and joy. I could only imagine what the place would look like during its busiest days in pre-Covid times, bursting with people, sounds and smells. We sat down near the window and ordered three Eritrean mango beers. They were served in calabashes and tasted sweeter than a regular beer would.
When we came in, music from a Dutch radio station was playing. We were all a bit disappointed, since we hoped we could Shazam some African songs and add them to our playlist. However, as though the waiter could read our minds, after about 30 minutes they changed the playlist and we were surrounded by African music.
As Covid-19 is still taking up quite a prominent place in all of our lives, Viva Afrika also couldn't escape the measures. Next to the door was a hand sanitize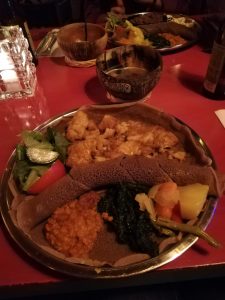 r machine and we had to order by scanning a qr-code on our phones. Fortunately, it didn't change the fact that we had to eat with our hands, using the injera to scoop up stew and veggies. I opted for the Assa-Kelwa panga fish served with lentils and spinach. The taste was rich and full.
Because I've never been to East Africa, it's impossible for me to judge whether Viva Afrika really embodies the authentic East African experience. Does it resemble the taste, smells and general atmosphere one would find in a restaurant in Ethiopia or Eritrea? Or is it tailored to the idea that most Dutch people would have about Africa? I myself am not capable of answering these questions, however, I did notice that after some time, the place began to fill up a bit more and the air around us began to be filled with different African languages that I was unable to place directly. I assume that if Africans are visiting, this means Viva Afrika at least partly reminds them of Africa.
Lastly, I think there's also an advantage to my inexperience: All experiences, all tastes, smells and visuals, are (almost) new to me. I didn't need the food to take me back in time, or to remind me of past experiences, all I needed was to be present in the moment. I left Viva Afrika happy and full, but also yearning for more; I can't wait to one day fully immerse myself into the African experience.